Yes, for sure.
At present, it is very much possible to order from anything to everything online across the ecommerce sites. The packaging material is the utmost requirement, especially for an ecommerce business.
Well, now is the time when you are ordering online to serve your orders online. This ensures that we came a long way from where this all started.
If you are a newbie in the field, you may not be so aware of the packaging standards. The standard packaging ideas are more or less the same across all ecommerce sites. But, you are bound to follow those standards when you are selling across the countries as a registered seller on online marketplaces. You can tweak and try your packaging standards when you are selling from your ecommerce store.
In the blog, we will be talking about the need for packaging, packaging standards, type of packaging material, and from where you can order ones for your business.
Why do I need packaging material for my ecommerce store?
The primary notion behind the packaging is simply to make your products reach the customer in its original condition without any transitional damage. To avoid physical damage, abrasions, wetting, bruising, or so, the packaging standards are set.
The packaging is known to impact the price of the product. When attractive packaging boxes are used to showcase even the simplistic products, you gain the attention of more buyers than ever before. And, that's why the knowledge of packaging and innovative packaging ideas are required to grow your value as a brand.
The first and foremost thing is, select the internal product packaging and styling ideas. Next, you can give way to external product packaging.
The best thing is, you can order both types of packaging materials online. The primary benefits of selecting packaging material are:
Protection of the product against weather conditions.
Prevention of transportation damage of the product
Maintenance of hygiene, taken as a preventive measure.
Easier to convey and handle.
Storage of products, especially in the warehouse
What kind of packaging material should I purchase?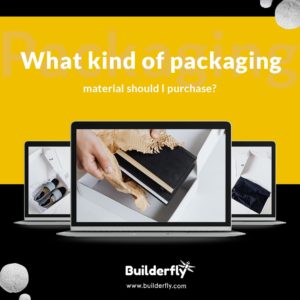 Different types of the packaging material can be beneficial for different categories of products. Like bubble wrap is good for bulky and delicate products, but it's not so required for books; thermocol boxes are essential to carry televisions and other electronic devices, but they aren't used for packaging of jewelry.
Further, the rules and regulations for product packaging can be decided and guarded under regulations by local government authorities. Such checks are mostly about eco-friendly packaging material or preventing the use of low-grade material.
To select the type of packaging material for your store, you need to make a list of product categories. And, here we are offering the list of packaging material that you can consider to decide the packaging products that you can choose from:
Self Adhesive Tapes
Air Bubble Rolls
Bubble Wrap with Big Bubble Size
Bags/ pouches

Polythene Bags
Temper Proof Bags
Temper Proof Bags with Airbubble inside
Air Bubble Bags
Shrink Packaging Films
Plastic Strapping Solutions
Corrugated Rolls
Stretch/Cling Film Wrap Rolls
Foam Bags
Locking pouches
Woven Sack Rolls & Bags

Corrugated boxes

Single face
Double face
Double-wall
Tripple wall

Machines

Shrink Packaging Machines
Sealing Machines
Strapping Machines
Vacuum Packaging Machines
If you are looking for some packaging material as per the common names, you can search for it with the local vendor to get more clarity about the material you are looking for.
Factors to be considered while placing an order for packaging material
Placing an order for packaging material online is not so big deal, but the material you order will be used further to serve your customers, and that's why you need to be a bit more cautious. Here are the few things that you must consider to avoid the circumstances of the return.
Size: The size and the scale used by the seller for telling the dimensions of the product may vary. Before placing an order, check the dimensions used and if you are looking for the same dimensions, you can check the price and other factors.
Quality: The quality of the packaging material can't be known by touching, but there are standards to count on. For the A4 printing paper GSM quality of the paper is checked. Higher the GSM number, the better will be the paper quality. Likewise, there are standards for corrugated boxes, tapes, as well as polybags. You can look for these standards and make a list of your requirements accordingly.
Price: Competitive product pricing is the primary reason for choosing the online mode of product purchasing. You can check and compare the quality, price of products sold by different sellers before placing an order on any site. Also, we will be using this material as the primary product. That's why it is better to check for the same products in the local market, before placing an order.
Delivery time: Keep a stock of packaging material to ease the product delivery cycle for your ecommerce store. In case, your stock is below the threshold, check for the product delivery time that a seller will be taking to deliver your packaging stuff else you will not be left with any choice than ordering one from the local vendor.
Can I order customized packaging material?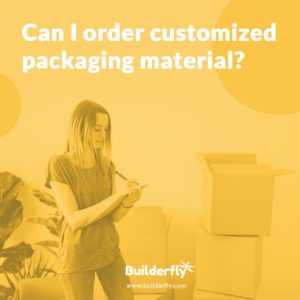 Custom packaging is so crucial for building your identity as a brand, as it will have your logo and information of your brand on it. Customized packaging material is known to increase the awareness of your brand.
Renowned brands like Amazon, Flipkart, and many others are already using this idea. Also, businesses registered with these platforms are advised to use branded packaging to increase the reliability and link of companies with such a brand. But, there is no compulsion. Also, the registered brands can use their branded packaging to serve and market their products on these marketplaces.
When you are selling your products, especially the manufacturers, can count on custom packaging to impart their business values. Amazon has used printing success stories of small businesses associated with Amazon under their seller program. In this way, there are numerous ideas that you can try to entice more and more customers.
To place an order for custom packaging, you can search with your local vendors as well as 'Google it.' However, you can't merely get 50 pieces here; you need to place orders in bulk. After connecting with these vendors, you can ask for a quotation and minimum order quantity (MOQ) to make it easier for you to place an order.
From where can I purchase online packaging material for my store?
To get the online packaging material of your choice, you can check with your local vendors. If you don't know many wholesale vendors, you can reach for local directories online. It will help you connect with several sellers and give you more options to compare and choose.
You can place an order for your packaging material on any of the ecommerce sites serving all the product categories. You can count on Amazon, Flipkart, eBay, Alibaba for sure. If you are looking for custom packaging businesses, you can contact sellers on these platforms and enquire if they provide such services.
For those of you registered across marketplaces, you can search from business inventory to claim discounts and tax benefits. Also, you can explore the ecommerce sites of other packaging material sellers for durable and recyclable packaging material.
Now that you know how you can get packaging material for your store order now to avoid any delay in order fulfillment.
Happy Selling!