After the US and China, India is undoubtedly the third largest growing market. There is a great potential in this market and that is exactly why many ecommerce giants such as Amazon are setting up their base here. Moreover, not only the big players but also small ecommerce builders are emerging and developing every day that is shaping up the ecommerce market in India. The major reason behind the speedy adaptation of ecommerce in India is the countless benefits attached. With such platforms, many retailers, as well as manufacturers, have got a chance to sell online easily and efficiently. And now any individual can launch their own ecommerce website to sell online around the globe.
How much does it exactly cost to build an ecommerce store in India is the most common and widely asked question. However, it is not as simple as it appears as it depends on quite a few factors. To find a realistic figure of building an ecommerce store, some basic calculations, customer expectations, and your choices play a major role. When broken down, the cost incurred to build an ecommerce store includes the designing costs and the development costs. And lastly, the final charge would be based on the features the customers would want for their online store. Well, the costs of creating an online ecommerce store will also depend on the platform you have chosen to work upon. Choosing the right ecommerce builder for your store is a crucial factor deciding the cost incurred as well as the success of your ecommerce website/store. In this blog, we will be discussing the approximate costs you would incur to build an ecommerce store in India.
What are the charges that induced to build an ecommerce store in India?
India is not just an unfolding as a huge market, but also is generating ample amount of technical experts that are helping the global entrepreneurs with their ventures. When you plan to create an ecommerce website, you may need to spend your money as a one-time expenditure, every month, or every year. Therefore, creating an ecommerce website is inclusive of fixed costs, recurring costs, variable costs, and ad-hoc costs. Below is a step by step break up for the costs that would be incurred while building an ecommerce store in India:
Domain Charges
The journey to begin creating your ecommerce website/ store begins with buying a domain name for your business. Buying a domain name is to differentiate your businesses from the rest in the market; it should be defining your brand, depicting your services, and easy to remember. In order to purchase a domain name, you shall need a domain registrar. For instance, some of the prominent domain registrars of India are GoDaddy, Google, BlueHost, HostGator, and so on. You can also choose any other domain registrar as per your preferences. Some domain registrars may even give you integrated services including hosting, databases, DNS, and email accounts. The cost incurred for purchasing a domain name could range somewhere between Rs. 900 to Rs. 1200 per year. The reason we mention per year is that you need to renew your registration of domain name every year.
Hosting Charges
Once you have purchased a domain name for your business, it is time for you to choose your hosting provider. A hosting provider's role is to host for your web application wherein they will provide you with a space on their web server in exchange of charges on a monthly or yearly basis. The charges of the hosting services may vary depending on the type of plan you choose for your business. For instance, Builderfly Ecommerce Platform offers four different kinds of Pricing Plans, viz. Startup Plan, Standard Plan, Advance Plan, and Pro Plan. From these, the Startup Plan requires only a one-time charge of Rs. 7,399.74, and the charges of the remaining plans are Rs. 2,615.89, Rs. 5,605.49, and Rs. 14,574.27 respectively. Moreover, you can avail a 10% additional discount if you choose to subscribe on an annual basis.
Designing Charges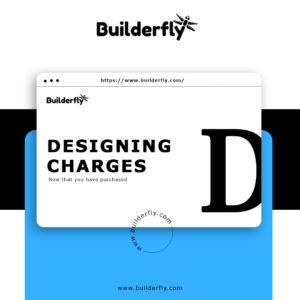 Now that you have purchased the domain name and selected your hosting partner, you have to choose a design for your ecommerce store. For this, you can opt for a designer and choose one design from their catalogue or ask them to create an exclusive design for your brand. The design section is the major factor determining the costs incurred to build an ecommerce website and this charge differs from design to design. A professional design may cost you more and although it is a one-time charge, the changes that are to be done in the following years can be costly as well. You might get some basic designs for free, but with the word free comes a list of limitations such as lack of customer support, no maintenance services, and the list goes on. For professional designs, you may incur charges anywhere between Rs. 10,000 to Rs. 60,000. Again the charges shall vary based on the designer you choose and the requirements you put in front of them. You can also consider outsourcing your ecommerce website designs which can cost you more as compared to the prices shown on the Internet. We recommend you to create an ecommerce store with Builderfly, as you do not need to pay an additional amount for designing your store; the professionally designed, ready-to-use templates and themes provided on the platform help you create a stunning online store. Moreover, with suitable subscription plans, you get access to the marketplace wherein there are thousands of paid themes to design your store.
Search Engine Optimization (SEO) Charges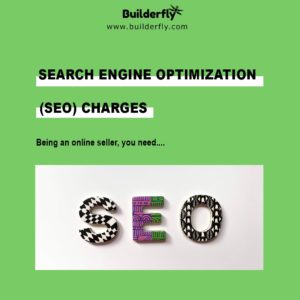 Being an online seller, you need to know the importance of an SEO-optimized ecommerce website. SEO plays an important role in boosting online visibility by ranking on the first page of Google's Search Engine Results Pages (SERPs). You can grab the attention of internet users with SEO. It is a technique that lets the search engines to index your website using the relevant keywords for your business niche. By this, whenever your potential customers search for any products or services that are relevant to your business, the search engines show your website page in the results. Although this is an optional charge, it is significantly vital to the success of your ecommerce store. Many SEO specialists can help you with optimizing your website in order to be visible to your audience. They would offer your various SEO packages for on-page SEO, off-page SEO, on-site SEO, off-site SEO, or a combination of a few or all. You have to choose an SEO package that suits your business as well as your requirements. The charges that could be induced for this would range anywhere between Rs. 20,000 to Rs. 45,000. Now, if you do not wish to spend so much on SEO, here's a secret; when you build your online store with Builderfly, you do not have to pay any additional charges for SEO optimization. All you need to do is register, choose a plan, and customize your store (which includes on-page optimization!).
Responsive Web Pages Charge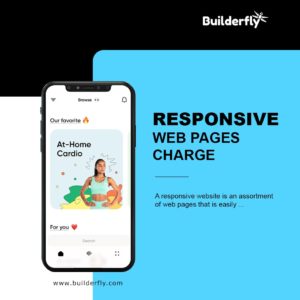 A responsive website is an assortment of web pages that is easily visible and adjustable to different screen sizes. Moreover, Google has acknowledged that a responsive website is a scoring factor for ranking as per their algorithm. If you are looking forward to establishing a genuine ecommerce business for the long run, you must look after the responsiveness of your website's web pages. It can require integration of CSS which can bring you additional charges. The charges for creating a responsive website that can be accessed through any device such as Desktop, Laptop, tablet, or Smartphone, could nearly be around Rs. 3000 to Rs. 5000 for a small or medium-sized website. If you have a larger website with more than 10 pages, the charges may increase. Again, you can save these bucks if you create your store with Builderfly as it is already integrated with CSS and is responsive! Isn't that a bonus?
Content Management System or CMS Charges
If you are creating a dynamic ecommerce website that requires frequent alterations, you would need a quality CMS. It can help you alter the content of your website without causing any hindrance or disturbances to the website design. You might get many CMS online for free. However, these may only help you manage easier alterations. If you are looking forward to a unique way to manage the content of your website, they are not for you. You might need to outsource or build one with web developers and for that, the charges incurred could vary from Rs. 1,00,000 to Rs. 5,00,000. Well, you can dance for a while now as we are helping you save this charge as well! Builderfly Ecommerce Platform is integrated with CMS, along with multiple selling platforms, and mobile app builder for iOS and Android. Moreover, the 14-days free trial period lets you explore its extensive features. However, you'll need to subscribe to a suitable plan and connect your domain to start selling online. In a nutshell, it is a comprehensive solution for you to take your offline business online in a jiffy!