Social media is the powerhouse of customers for ecommerce businesses out there. It is a common belief, but it's easier said than done.
Having an online store or business pages across all the social handles can't prove this thing right. You need to plan your marketing strategies as per your goals; else, they are a waste of time and effort. We understand that it's not a total waste, it can create a fan base, but you will not be able to get the expected outcome, i.e., Sales.
Adding the followers on social media channels is one thing & driving them to your ecommerce store is the other. Every customer interacting with your social media channels will not be coming to your store, even less than 5% will navigate to the link shared. One-third of those followers will interact with your post by reacting, the other one third may choose to see but not interact, and others prefer to ignore.
It's a fact that you can't please everyone. So, you have to be very particular about the audience you choose to connect with. This will give you a better idea about the products that you should add & content that you can create to build interaction in your store.
There is no sense of speaking when there is hardly anyone to listen to. Likewise, there is no better sense of posting content on social handles when there is hardly any audience to grab it. That's why the primary goal of starting with social media marketing is to build your audience. Create brand awareness campaigns to spread the word about your business. You can share your business story, the interactive process of product manufacturing, your motivation force to get started, or even the product niche that you are pitching.
Here are the few crucial ideas you can implement to create content for your social channels to motivate your social media followers to check out through your site.
Be trendy with Google Trends
Since you are creating the content for the audience, you need to understand what interests them. The data you will grab with the analytics tools will make it easier for you to understand these preferences. Even when you understand the type of data that worked well in one of your previous campaigns, it may not work righteously the very next time. Do you know the reason behind it?
Well, it is that we are humans and we have dynamic interests. The news & social media can help you understand the topics that are trending & walking with those specifically for your target niche. You can take the help of Google Trends, to know the crucial topics & relating keywords. This will be a lot helpful for you in improving the organic reach of your business.
Keep one thing very clear in your mind, and it is your social media and not your website. Don't flood your social handle with all the product images. Do you share the sharable content?
The visitors won't share your products unless they happen to be something unique. On social channels, your goal is to engage with your audience & not just promote your offerings. While creating your social media plan, you must take note of this thing. You can add the quotes relating to your business, share the process of product creation (if you are a manufacturer), create short how-to videos, & add the graphics that are interactive like Giphy.
The touch of creativity in your social handles creates the interest of your audience. You can talk about the latest offers & promote them in one or the other unique ways. Another important thing is, maintain regularity. We know that it is a tedious process, but the brand is not created overnight. When you keep sharing things over some time with the best possible ways, you can grab the attention of people & widen your reach of the audience. Consistency is the key to success, that fits well for the social channels, at least.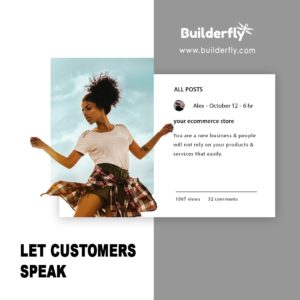 You are a new business & people will not rely on your products & services that easily. At this point, let your customers speak about your products. You can share the customer reviews on your ecommerce store to build the trust factor among your potential customers & your brand. Even when it's not easy to gain a new audience's attention, the customer reviews can make this thing happen for you.
Visual content is much more appealing & engaging, in contrast to the textual content. The interactive media elements give you a lot of options to experiment creatively. Wherever & whenever necessary, you can add the text to the images & share your message in a much better way. You can add slides to showcase a lot of content in one graphics to improve the engagement of your followers in your store.
Set the time to communicate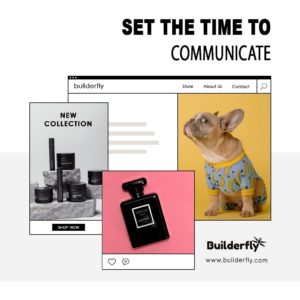 It's important to talk to your audience, be it today or the other day, but set aside some of your time for the same. You can go live in the events, share some easy tutorials, or talk about your business niche, or even publish a blog. It all works with the perspective of giving & take, the more you contribute to the community, the more you will grow. The consistency, timing, engagement, response time to your audience makes a lot of difference in building your connection with your customers.
When you set aside your valuable time to connect with the audience, you give attention to your business & gain a much better understanding of your audience. Be it the feedback forms, surveys, or live chats, everything is meant to teach you something unique about your customers that can be the stepping stone to invite your customers to your store.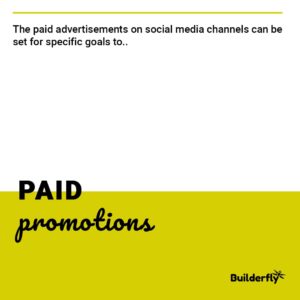 The paid advertisements on social media channels can be set for specific goals to improve the chances of conversion through social handles. You can choose the audience that you would like to target & widen the reach of your business. They can add a lot of value to the small businesses by staying competitive & increase reach over the existing brands. You can leverage the benefits of PPC campaigns & earn more convertible customers.