An ecommerce forum or community is an online group wherein ecommerce business owners as well as creators examine and discuss issues relevant to their industry. Think about the time when you last talked about your current or potential online business with someone else, be it your family, or be it your friends. Were they qualified enough to advise you of the right decisions? When it comes to online businesses, knowledge is truly powerful, and this knowledge comes from the people who have traveled from ashes to riches.
Luckily, with the sweeping growth of the internet, you can find such comprehensive knowledge on the broad array of ecommerce forums and communities. Such platforms help you raise questions, help others in need of answers, participate in group discussions, and chat with other enthusiastic entrepreneurs like you. In order to make your entrepreneurial life a bit easier, we have come up with expert suggestions from our professional team-mates for the top ecommerce forums or online communities. Keep reading; we are sure, this will help you in your business extensively!
The Top Ecommerce Forums or Online Communities
The Ecommerce Fuel Forum
It is undoubtedly, one of the best places to find what other ecommerce store owners are doing to scale up their businesses. It is originally designed for established ecommerce companies that earn at the least 6-7 figures per year. Therefore, we recommend this forum only to the well-established and experienced ecommerce businesses. For being a part of this forum, you need to purchase a membership worth $49 per month to ensure that your business abides by the guidelines set by the forum. Once you gain the membership of this forum, you'll notice that some threads are loaded with favorable details. For instance, some topics may give you a thorough knowledge about how much amount you pay for the liability insurance and steps to minimize the risks of switching from one shopping cart to the other.
The Digital Point
It is another impressive and one of the biggest online forums in the world for your ecommerce business. Using this forum, you can promote your business and find what works well for you and whatnot, all for free. It is a community that is inclusive of a marketplace for digital products such as websites, domains, plugins, scripts, and templates. This ecommerce community board also has Search Engines, Designs, Developments, Business, and Marketing. Moreover, there is an additional section for Purchasing, Selling, or Trading. If you wish to chat with some specific people privately, you shall need a prime membership. Every member of the page shall provide you with some genuine opinions on how you should move ahead in order to earn more sales. It is a great platform to help you learn everything from ecommerce to social media to SEO.
The Web Retailer Forum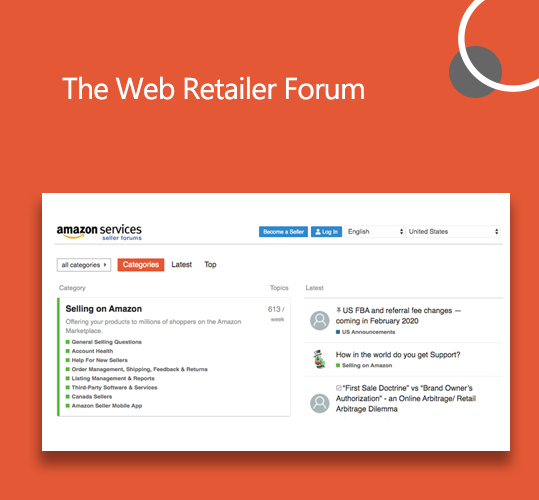 It is a community for ecommerce businesses that sell through online marketplaces such as Amazon and eBay. The community lets the members of the group with the opportunity to build industry knowledge, discuss issues, get answers to topics revolving around software and selling techniques, and become a much better and efficient online seller. The Web Retailer Forum is free and you may even get exclusive discounts and trials from top software service providers upon signing up with the community.
The Warrior Forum
It is one of the biggest forums for internet marketing and had been the junction for convening internet marketers since 1997. This platform covers topics such as drop shipping, wholesaling, and some other topics relevant to the ecommerce industry. The Warrior Forum offers free as well as paid membership opportunities. The paid membership is termed as the War Room, and the price for the same is $8.08 per month. The paid membership opens door to the Warrior Ask Me Anything Events wherein the members get to learn from some legendary online marketers. Moreover, the platform offers some tools for businesses, digital marketing courses, and so on. Although this forum is not specially designed for ecommerce, it has a dedicated ecommerce section. This forum is apt for the ecommerce businesses that have already been in the industry for a while and are in search of ways to improve what they already do. There is a voting system for the published articles on the forum that lets the users know whether to invest their valuable time in reading them.
The Small Business Website Commuting
It is a community that helps you to know about technology in general with a dedicated and easily accessible ecommerce page with various threads for some general ecommerce topics. When you skim through the ecommerce section, you can find a wide range of interesting ecommerce topics including how to select the best ecommerce platform, how to manage your payments, and so on.
SEO Chat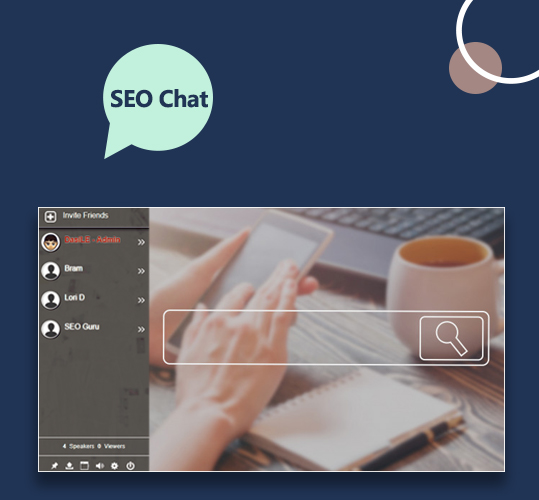 On and above a powerful social media presence, this forum shall aid you in creating a decent foundation to clarify your ecommerce basics. You shall get access to the right information to give your products the exposure it deserves on the social level, local level, as well as the global level. The platform is continuously updated with the trending topics with the right members who offer honest feedback on the product or any other suggestions you seek from them. This platform is especially apt for the newbies in the ecommerce industry. It is inclusive of boards on SEO, SMM, PPC, and other topics relevant to digital marketing.
Conclusion
Ecommerce forums or communities are great places to seek advice for your ecommerce business, instead of going for the baffling try and test methods. A smart move is to join more than one forum or community for varying opinions on the questions or suggestions you seek. One thing you must be sure of is that you need to abide by the terms and conditions of the forums or communities you join. You can freely raise your questions, ask for suggestions, gain knowledge, and yes, pass on the information to the rest of the members in need.