10 Top Selling Product Categories On Amazon
Sell Books Online
Amazon, a business that started selling books online, is now having print books as one of Amazon's most popular products. Selling books can be lucrative for almost any seller since they have a huge profit margin. Several books can be found on Amazon which is difficult to find in a regular store or wholesalers.
See the top Amazon Best Sellers in the book category and the number of total reviews: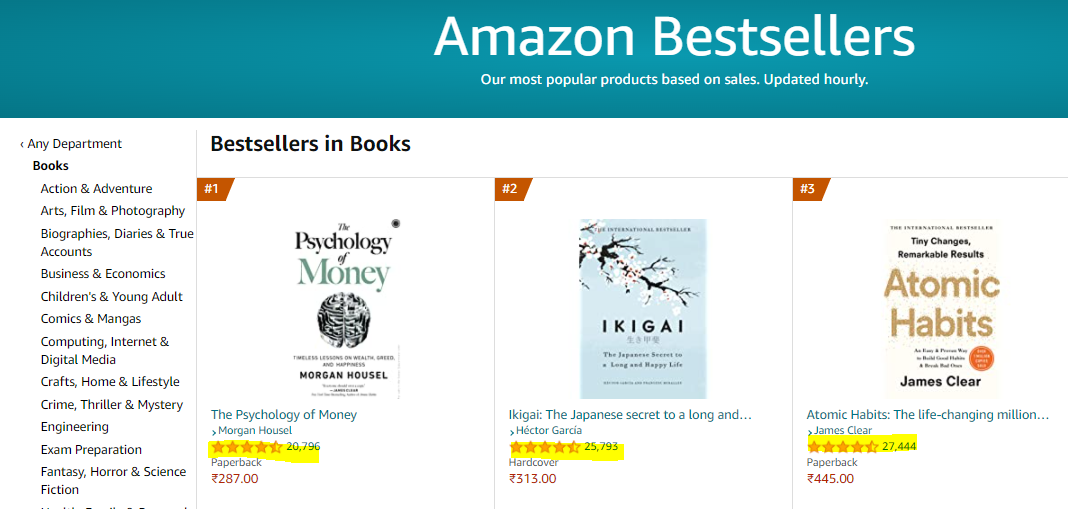 Another great place to sell your digital book is Amazon kindle. It's an excellent opportunity to make money over the internet because kindle editions are already quite popular.
The most popular categories of books to sell on Amazon are:
Action & Adventure
Arts, Film & Photography
Biographies, Diaries & True Accounts
Business & Economics
You can also leverage your business with the Amazon Prime Reading audience which offers around 25000+ books on its platform.
Sell Footwear Online
Shoes will always remain in high demand as long as they are made. There is no doubt that selling shoes online is an excellent business idea!
On Amazon, you can send a variety of shoes and footwear for men, women, girls, boys, children, and adults. Some of the popular options available are:
Sandals
Flip-flops
Sports shoes
Formal shoes
School shoes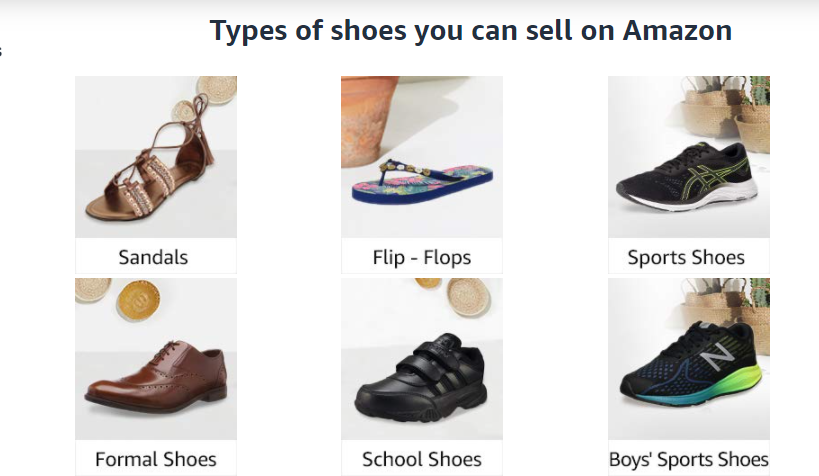 Before you start your online shoe business with Amazon you must keep a thing in mind. The shoes must be attractive for people to buy to maximize your shoe-selling business. The reason is that you can't just pick one from the lot and expect customers to buy. So keep a diversified lot and work your way to success.
Sell Furniture Online
Online furniture sales, they said, were impossible because of freight costs. It wasn't the case. The online furniture market is increasingly moving at a fast pace as part of the "Amazon effect." The convenience of buying online makes younger consumers more likely to buy furniture online, even if they can't see and feel them first.
Popular furniture items available online on Amazon are:
Beds
Side tables
Sofa sets
Coffee tables

Globally, the online sale of furniture will grow by an average of 10% annually, according to a report published by Statista. Furniture e-commerce is a fast-growing sector, so it is safe to say that it is a segment that is on the rise.
Sell Clothes Online
We all wear clothes as it's a basic necessity. Millions of users come to the Amazon site every day, so sellers have access to many customers. That's a great advantage if you plan to sell clothes online on Amazon.
Popular clothing categories on Amazon include:
Baby
Boys
Girls
Men
Sport Specific Clothing
Women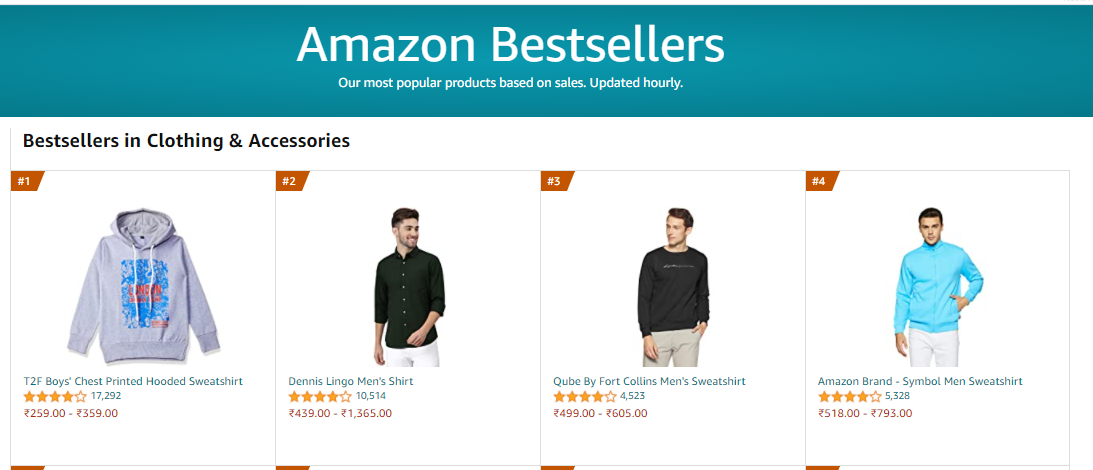 Although there is a lot of competition in this industry, if you offer options that satisfy your target audience, they will keep shopping from your Amazon store. That's how a majority of the most successful sellers sell clothes online on Amazon, by finding the right mix.
Sell Kitchenware Online
After electronics and clothing, the Home & Kitchen category is the 3rd most popular category which falls on Amazon's list of the top-selling categories. In the home and kitchen category, consumers tend to purchase highly saleable items. It is a category on Amazon that has a high-profit margin and is a good opportunity for sellers.
In addition to buying kitchenware as a daily necessity, many people choose to purchase accessories as gifts. This is popular as the items are small, lightweight, and easily shipped products, keeping the shipping and storage costs low.
Sell Watches Online
People experiment with watches to enhance their looks from formal to daily wear. Women, however, prefer to have a choice for the style and appearance of wristbands, patterns, materials, etc. Mostly men seek variety in wristbands, patterns, and materials.
Did You Know – Amazon is innovating with Israel-based researchers wherein they will use machine learning to identify stylish items. So, if you think your collection of watches is trendy and stylish, sell them on Amazon right away!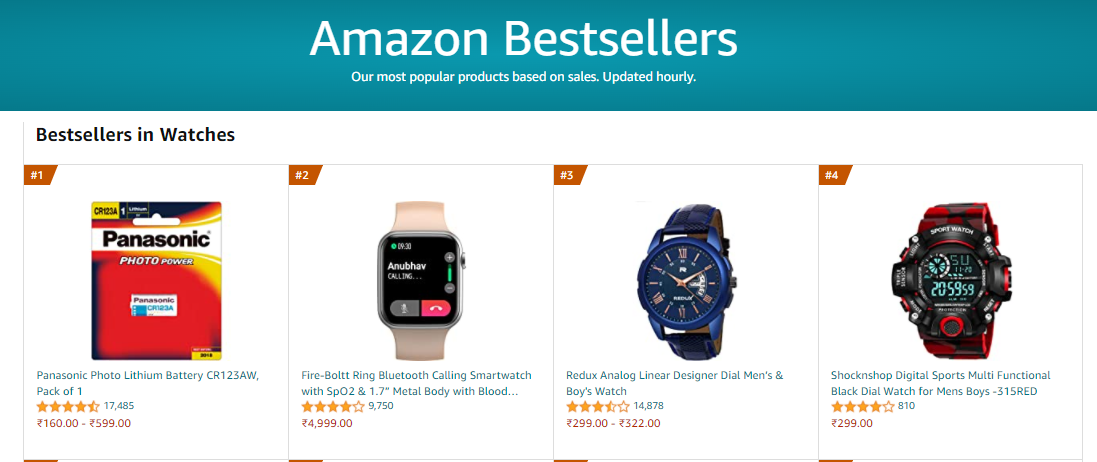 Your best chance of landing your first few sales is to stick with the best-sellers like smartwatches and chronographs as they're popular with your audience.
Sell Grocery Online
In the current eCommerce environment, grocery is one of the fastest-growing categories. There is constant competition between all of the major platforms for market dominance. It is anticipated that the market will reach over $100 billion in annual spending in 5 years for Amazon.
Further, due to the Covid times, Amazon Pantry's groceries domination is continuously thriving. Some of the most popular grocery items to sell on Amazon are:
Baby Foods
Breakfast Foods
Candy & Chocolate
Food & Beverage Gifts
Fresh Flowers & Live Indoor Plants
Dairy, Cheese & Eggs, Meat & Seafood, Meat Substitutes
Frozen and Snack Foods
Also, you can post all of your grocery products online for a relatively small investment if you want to sell groceries online. You can capitalize on this opportunity. Making your products available online can enable you to access entire countries without negotiating distribution agreements with speciality retailers or any other entity.
Sell Medical Supplies and Equipment Online
Both sellers and buyers benefit from Amazon's marketplace offering a platform to sell medical equipment. The Amazon health section is the right place to establish a brand because users can save and compare products.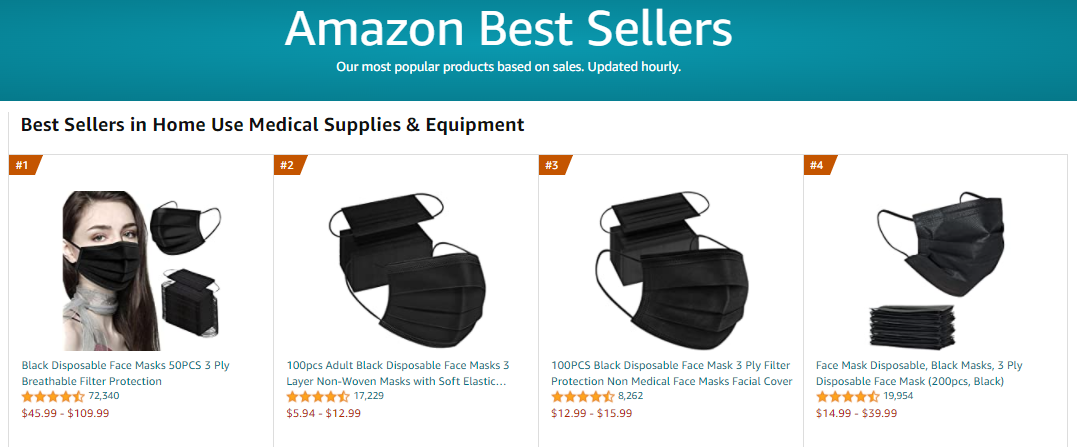 Now is the perfect time to sell medical equipment on Amazon because the market is expected to be 657.8 Billion in 2028 from 455.34 Billion in 2021. This growth is noted with a CAGR of 5.45%. Some of the popular product categories are:
Braces, Splints & Supports
Cloth Face Masks & Accessories
Health Monitors
Ketone Testing & Monitoring
Living & Safety Aids
Medical Compression Garments
Medical Face Masks & Shields
Mobility Aids & Equipment
Also, a study conducted by Reaction Data, healthcare research and consulting firm, found 62% of hospital officers and administrators support the online retailer.
Sell Beauty Products Online
There is a lot of interest in beauty and personal care, skincare, haircare, cosmetics, organic products because people care about their appearance and health. This industry generates billions of dollars and as an online seller, you should opt for this.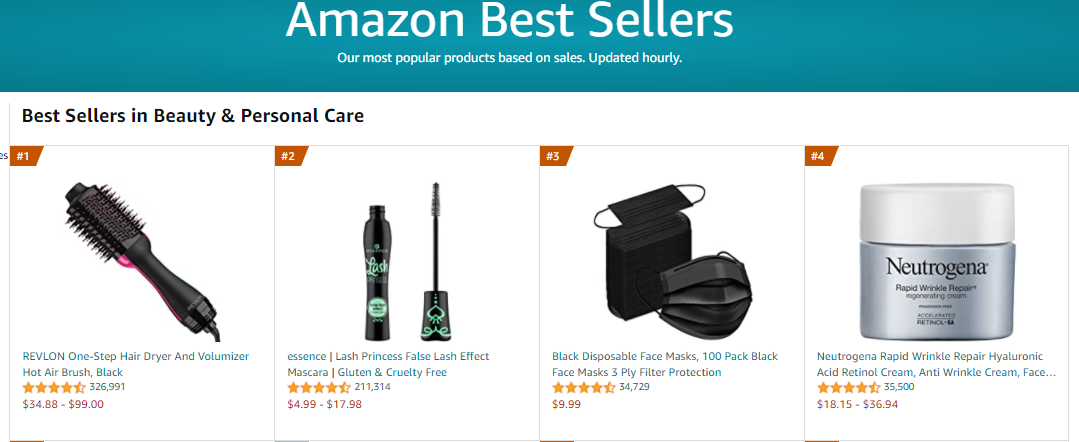 Although Amazon's beauty section is different from other sections. As the industry revolves around aesthetics, Amazon promotes low prices and attracts customers based on its function.
Popular Beauty And Personal Care Items To Sell On Amazon:
Bath & Bathing Accessories
Foot, Hand & Nail Care
Fragrance
Gift Sets
Hair Care
Makeup
Skin Care
Tools & Accessories
Also in recent years, the demand for organic and chemical-free beauty products has increased. So when you list your beauty products make sure to include these as well.
Sell Tea Online
Due to the world pandemic, when people can't get out of their houses, drinks are a big market to tap into. We believe this is a great time for you to start your tea line with Amazon since there are so many tea and coffee farms available.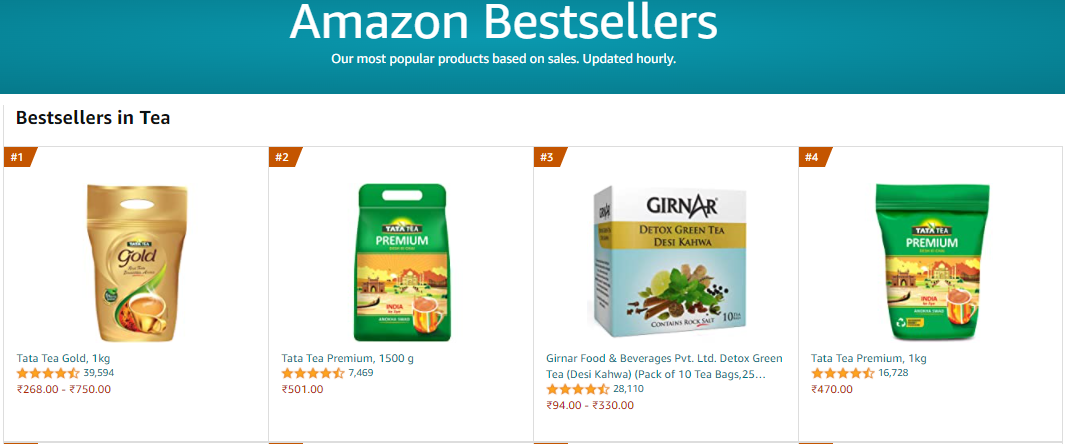 You can choose to sell one of the popular tea items:
Black Tea
Chai Masala
Fruit Tea
Green Tea
Herbal Tea
Oolong Tea
Rooibos Tea
Tea Gifts
White Tea
Although it is important to keep in mind how you want your tea/coffee to stand out from the competition. You will need to pay attention to how you brand your products and also to the packaging at this stage.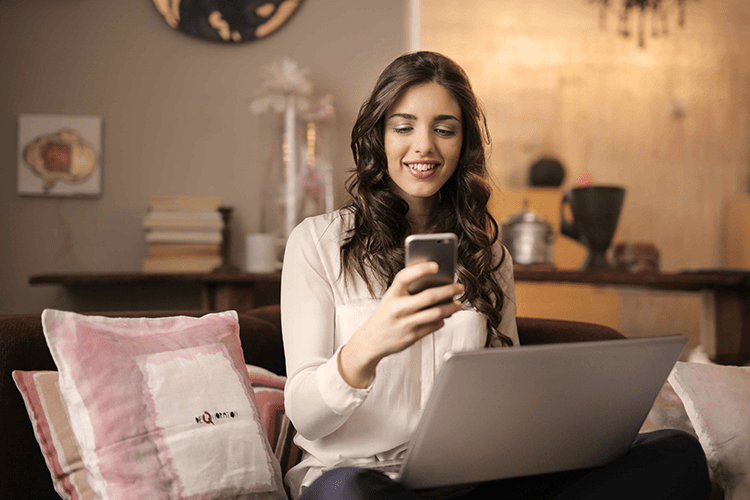 Sell trending & products in demand to maximize your profit on Amazon. Grow Sales with Builderfly.
We hope that now you have clarity about what products you can sell on Amazon to scale your business. The good news is that Builderfly is here to help you get started on your online journey to sell profitably on Amazon. With Builderfly you can easily set up your online store on Amazon and multiple marketplaces. You can list unlimited products with a detailed description and attract more customers to your storefront. Wait no more, start your online journey and start selling on Amazon with Builderfly.
Let your business fly! Choose Builderfly!
FAQs
How can I start selling my products on Amazon?
Selling on Amazon is quick and easy with Builderfly. When you already have your product catalog listed on Builderfly, you need to link your Amazon merchant account, select the products you like to update, and get them instantly live on Amazon. Then, get your product catalog live on Amazon & update your commissions immediately to start selling without delays.
Does Builderfly charge any commission fees for selling on Amazon?
No, not at all! Selling on Amazon with Builderfly is free and comes in handy for our growth plan users. We keep your inventory in sync across all of your sales channels & keep you managing your product catalog centrally at no extra charges.
Are there any product category restrictions while selling on Amazon?
The product category restrictions on the Amazon marketplace will be applicable while selling on Amazon. However, you can sell online without any restrictions or approval concerns from your online store with Builderfly.
How many products can I sell on Amazon?
You can sell unlimited products on Amazon and from your Builderfly store. So, you need not worry about the count of products; you can sell limitlessly.
How does Amazon help me grow my online business?
The wide user base of Amazon shoppers makes it easier for you to find the right customers for your quality products. Getting orders from there gives you better chances to grow your market exposure, especially if you are launching in the market as a new brand.