Are you a newbie to selling online? Do you want to start your business online in India? Do you often wonder how to start an online business in India? Are you having trouble selling your products online? Do you find selling on social media challenging? If the answer to all your questions is a yes! Then you are at the right place!
We understand that online selling is a bit tricky, and it's impossible to get it right on the first try.
But not anymore! Our do's and don'ts of online selling in India guide will assist business owners, startups, and aspiring entrepreneurs to start an online business. With us, you can expand your reach, market, and sales via online selling.
Online sales are easier than ever. An intuitive website and a customized marketing strategy are all you need to market your products online effectively.
To improve your online sales and increase awareness about your brand, you must focus upon creating strategies that can help you in:
Understanding your buyer's mind
Building your consumers' personas
Running a thorough analysis of your competitors
Placing the product that assures you maximum profitability
Paying attention to what your customer is talking about you
In this blog, we will help you focus upon:
Why should your business go online?
What to do and not to do when selling your products online?
Tips on how to start an online business from home in India and make them profitable
Online marketplaces to sell your products online like Google, Facebook, Amazon, and more
How can Builderfly help you sell more?
With this blog, we aspire to help you effectively start your online business to sell your products online in India directly. In addition, we can guide you to take your business to a new level with zero investment. Let's get started and first discuss why your business should go online and how it can help you build for your store.
Why Should Your Business Go Online?
If you are a start-up and don't want to spend a lot of money on marketing your brand, you can just go online with a zero-cost website. How?
By establishing your business presence on different marketing channels.
By connecting with a broad set of the audience directly to promote, sell, and cross-sell your product.
A properly executed campaign can help you raise brand awareness and develop a strategy that will help you increase revenue for your company in the future.
Here are a few advantages to starting your online business:
1. Grow More With Zero Investment Online Store
You can literally start selling your business online with zero investment. Simply find the right eCommerce platform for your business that can help you reach new audiences. Also, assist you in developing an eCommerce store or mobile application to increase the online presence of your business.
Discover Builderfly, the best eCommerce platform for your business, will help you build a niche in the digital world. Start your online store and mobile applications at zero price today! Register your business with us, and you are good to sell your product online.
2. Boost Your Brand Awareness
Selling online can help you spur awareness about your brand and credibility among your customers. Harness the power of your content and make your presence known to your consumers. Do not forget to maximize your social media presence, as it will help you cater your products to your potential customers.
Collaborate with an eCommerce platform that can help you manage all your social media accounts on a single platform like Builderfly. Track all your marketing platforms single-handedly and cater the best products to your customers.
3. Now Sell 24*7
With traditional markets, you can only sell products in certain fixed hours. On the other hand, online stores can be run 24/7, so you can make money while you sleep. Just set up an eCommerce store, mobile application, or social media channel to interact with your consumer and receive orders throughout the day.
It is essential to choose a platform that can host your business 24×7 so that you can receive orders from your consumers without delay. Round-the-clock availability will make sure that your online store never sleeps.
Also, make sure that you face no technical issues in your eCommerce store.
4. Flexibility & Accessibility
Online selling gives you the flexibility to reach your consumer at any time and anywhere you want. If you have an online business, you can work on it at your convenience and time that suits your schedule. Furthermore, you can start a business while working full-time if that is what you prefer to do.
You can also offer your customers the flexibility of accessing your products via different devices. Further, eCommerce stores make it easier to reach out to your customers to grow your business.
5. Global Audience Target
Want to target a global audience? Online selling is a great way to do so. Using different demographics, you can build your consumer personas and reach out to your potential target audience easily.
With online selling, you no longer have to restrict your business to one state or country. Instead, you can target a global audience with the right marketing strategies and partnerships. Get started to go global and generate more leads for your business.
Sometimes online selling can be intimidating, especially if you are a beginner or have had miserably bad experiences selling online. Do not worry! We'll explain what you do and do not do when selling your products online in the next section.
Sell Online: What To Do And What Not To Do
Online selling is a very competitive market, but unfortunately, many sellers on board do not know how to sell their products online and raise profits for their business. According to a report, by the end of 2021, we will have 2.14 billion global buyers.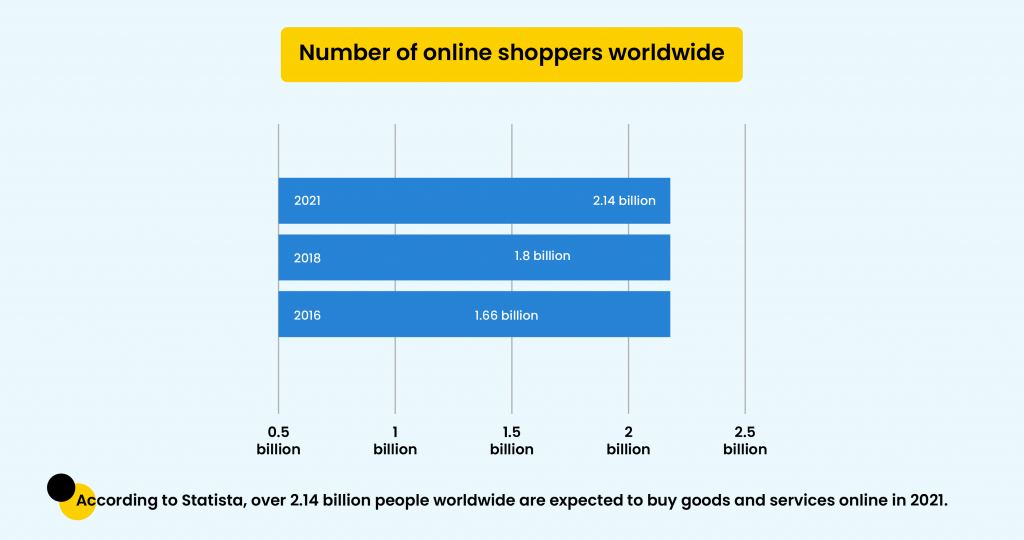 (Source: https://n7nqziuw1z4b1r6k2adhav10-wpengine.netdna-ssl.com/wp-content/uploads/2021/03/Number-of-online-shoppers-worldwide-2021.png )
Thus, if you want to have the maximum benefit from these increasing numbers of digital buyers worldwide – you need to understand how the platform works. Also, start working on making your product a best seller on the platform.
To resolve the problems of our newbies, we have summarized a guide to the dos and don'ts of online selling. Have a look at some of the tips to sell your products online without much hassle.
First, we will look at the do's of online shopping and know how to nurture your business and grow it to incur profits.
Do's Of Online Selling
Here is a guide to a few do's in online shopping that you must adopt in order to increase your sales and expand your business.
1. Define Your Target Audience
You should know who your ideal customer is or which customer is interested in buying your products and using them. First and foremost, target your audience, gain insights on your customer's tastes and preferences, use these insights to sell more and earn high returns.
2. Build A Website For Your Offline Store
Next is to move online, build a website for your business to attract global audiences. Plan your eCommerce store with eye-catching designs and templates for your website. Also, make sure that you have a fast-loading website with responsive design and secure payment methods.
3. Select The Right Ecommerce Platform
It is of utmost importance to choose the perfect eCommerce platform to do business online. You can either contact your consumers directly on their smartphones by creating mobile apps to sell online.  Or create an official website and drive more traffic to your business. Whatever you choose, focus on spreading more awareness about your brand through ads. Also, build credibility for your business in your customer's eyes, and the business will follow.
4. Ensure Your Platform Is User-Friendly
User-friendly applications will help you drive more traffic to your business and engage more customers with your online shopping platform. Make your online platform perfect for users by providing a fast-loading website and ease of finding the right product for your customers. Design a mobile-friendly site for your customer with different payment modes.  Also, be 24X7 available for your customers with online chat assistance and keep the interaction going.
5. Optimize Your Online Store
Optimize your online store with content that is relevant to your customers, use the right keywords. Use the latest trends and SEO practices to optimize your stores. Create keyword-rich content to rank on different search engines like Google, Bing, and more. Also, work on improving your current website and customizing its designs and content according to your business needs. Adopt methods to grow your website organically in the long run.
6. Create Product Catalogues In Detail
Write eye-catching product catalogs to sell your products online, add a catchy title, detailed description of the product. Describe the benefits of your product and why your consumer should invest in it. Also, keep it simple and engaging for your users. Do not forget to add customer reviews and feedback to your product.
7. Plan Marketing Strategy And Do Competitive Analysis
Plan a perfect marketing strategy to drive more traffic to your store and returns to your investment. Also, beware of your competition's growth and try to be a step ahead of your competition. Many sellers cannot sell online because they do not have the right strategy to drive sales to their business. Do not repeat the same mistake! Plan an innovative marketing strategy for your business. Spy on your rivals to find out how they drive traffic for their business and how you can take advantage of it.
8. Use Only Professional Photographs
Uploading low-quality photos of your products will make customers question the quality of your product. For this reason, you should hire a professional photographer to click your product images. With high-quality photos, you can make the look of your product more appealing to your customers.  A professional image will also help in satisfying customers' expectations and building trust among customers.
9. Mobile Optimization
Today everyone is shopping at the tip of their fingers. Thus it becomes essential for you to develop your mobile apps. You must optimize your mobile apps to constantly be in touch with your customers and keep the interaction going. Create responsive designs and improve the navigation of your mobile app. Also, work on user-friendly content that is concise and sharp. Optimize your campaigns in real-time with A/B testing.
10. Prioritize Important Channels To Grow Your Business
While selling your products online, focus on marketing channels that are important to grow your business. Drive traffic to your site with paid ads, social media marketing, email marketing, and SMS marketing. With social media, you can start selling online free and cater your products to a big audience. You can also run special offers, extra discounts, and coupons to increase your sales.
As you now know what to do while online shopping, let's focus upon the don'ts of the industry. In addition, work to make your product rank among the top sellers of the eCommerce platforms.
The Don'ts Of Online Selling:
When it comes to online selling, there are certain things that you must not do as they might have adverse effects on your marketing goals, strategies, and returns. Thus, if you want to make your business grow and earn a higher ROI, refrain from doing all these things:
1. Neglect Consumer Feedback
When you ignore your customers' feedback, you miss out on the opportunities to improve your products. As long as you see your consumers' complaints as an opportunity to improve, you can deliver what they want. Many organizations review their customer feedback monthly or quarterly to understand their problem and provide solutions for it.
2. Confusing Checkout Process
Shopping online is beneficial as a customer does not need to stand in a queue. However, a lengthy checkout process will only make customers frustrated and lose interest in buying products from your site. So, if you don't want your customer to abandon your cart, make your checkout process simple and clear.
3. Neglecting Product Description And Image Quality
Product descriptions and image quality make customers trust your products and motivate them to buy products from your eCommerce store. However, a low-quality image or poorly written product description will make them skeptical about choosing your brand. They will not trust your brand, thus do not neglect your product description or image quality.
4. A Flawed Pricing Model
You must choose your pricing model very carefully, as it can make or break your business. If you overprice your products too high, your competitors can take advantage of them. Or, if you price products too low, consumers will think you are selling cheap quality products. So keep your prices under control and check your competitors' prices as well.
5. Forget About Having A User-Friendly Website
You forgot about creating a user-friendly website? Go back and revamp your website. Without a user-friendly website, you can neither drive traffic to your website nor keep your users engaged with your content and products. Forgetting about having a user-friendly website is not negotiable; it will have an ill effect on your sales too.
6. Neglect Focusing On Different Marketing Channels
Selling online will be beneficial to your business when you focus on all your marketing channels. It will help you to run successful campaigns on your websites and interact more with your customers. With different marketing channels, you can sell more and earn more. Adhere to marketing channels and tactics that will help you to generate revenue and grow your online business.
7. Ignore The Opportunity To Add Value
Remember, the more value you create for your product, the more valuable your brand will become. By adding value to your products, you are giving the customers something more than they expected. However, if you ignore or refuse to add value to your product, you are just hampering your growth. So stop losing out on opportunities.
So now you are aware of what to do and what not to do while selling your products online. To ensure the growth of your business, you must adhere to this list and have a taste of success.
However, in our next section, we will learn how to start an online business in India from the comfort of your home.
Tips On How To Start An Online Business From Home In India And Run It Successfully
Want to start selling online for free? Just create accounts on different marketing channels and start selling on social media. You can also create a mobile app to sell your products online. Well, whatever, you may choose to keep your focus on growth.
Here are a few tips that you should adhere to while starting your business online from home in India and running it successfully:
1. Grow And Store Customer Data
Encourage your customers to sign up with your eCommerce store rather than just guests visiting your site. Collecting data is vital for your business as it helps you understand your product funnel. Also, create customized campaigns for your audience, retain your audience, and more.
2. Keep A Close Eye On The Competition
Monitoring your competitors will allow you to learn their strategies, what is working for them. Learn how you can offer a better approach than your competitors and go the extra mile. Thus, run a competitive analysis and know the unique selling point of your business and your competitor's business.
3. Work On Building Online Reputation And Gaining User Trust
When you start selling online, work on building trust among your consumers and a reputation for your business. You must make consumers trust your brand by providing secure payment gateways, providing complete product information, and more.
4. Follow The Latest Trends
A good marketer will always think ahead and follow the latest trends in the business. Finding practical solutions to your business problems with flexible technology. Also, work on creating a niche for your product and start selling more to earn more.
5. Be Present Where Your Buyers Are
You must be present on all digital mediums, social networking sites, and online marketplaces to make your brand known to people. Run ads, digital campaigns and create content to target your potential audience. Make your digital presence known to people to drive traffic and profits to your business.
With our tips and tricks, you can sell your products from anywhere in India to anyone globally. Just give wings to your dreams and start your business selling online. Make good use of your customer data to drive insights that will take your business to the top.
In our next section, know where you can sell your products and make your business a success.
Online Marketplaces To Sell Your Products Online
Today, most businesses start their journey by selling online, making it one of the most profitable options. With Online selling, you can be present everywhere and market your products to everyone on the internet. The extensive marketing channels on social networking sites help you connect directly with your customers and earn their feedback.
While selling online or with eCommerce apps, you can dramatically improve conversions for your business. You can also increase engagement with your audience and help them recall through push notifications, emails, and ads. According to a report, you can drive a 180% higher retention rate within three months using push notifications. So are you ready to go online and grow your business?
Here are a few places where you can start selling online and grow your business:
1. Google
Whenever you want to buy a product or want to know about something, you Google it. Google helps you to reconnect with your consumer by making it free for merchants to sell their products. Now you can do a free listing of your products on the Google Shopping tab. Advertise your products to thousands of customers in 90+ countries. So are you ready to start your journey on Google?
2. Facebook
The next channel is Facebook, where from connecting people to your brand to showcase your products with engaging ads. The platform can help you grow your business. It will also help you be in direct contact with your consumers to know what they think about your products.
3. Personal Website
Create a personal website to drive more traffic and revenue to your business. You should start with customizing the perfect layout of your website with feature-rich functionalities and a friendly user interface. Personalized designs and SEO-optimized content will make your website look more stunning and appealing to your customers.  Also, you no longer need to restrict your design or adhere to any particular complaints while designing your website.
4. Amazon
Sell your products on Amazon, the most prominent eCommerce marketplace in the world. Give a crisp, clear, and detailed description of your product so that your consumers know exactly what they are investing in. It will also help you to establish your business as a brand.
So now that you are ready to start your business online and know what to do and what to avoid, it's time to build your store for which Builderfly can help you. Builderfly is a well-established eCommerce platform that can help you set up your eCommerce store and grow it for future endeavors.
How can Builderfly help you?
Builderfly will assist you in setting up your eCommerce store online or via a mobile application. The platform will also help you manage all your social media accounts or online marketplaces on one platform. Furthermore, it will enable you to run all your business's digital campaigns seamlessly at your convenience and comfort.
Building your eCommerce platform with Builderfly can help you reach more people, sell more products, and earn more money. Make Builderfly your co-partner and experience success like never before!
So are you ready to register yourself on Builderfly and sell more online?