Although I'm a working professional with a 9-5 job, I still dream of starting my own business someday – does this sound like you?
If yes, then you are at the right place. Here in this article, we have explained why you should go for an online business rather than just sticking to a brick-and-mortar approach. Along with this, you will also find some of the most feasible online business ideas which you can start along with your job.
Although it sounds appealing to start your online business, it's essential to do it the right way. Thus, choosing the right business idea and a dependable online growth partner becomes necessary for a successful online venture.
Here in this comprehensive guide, we have listed out several benefits of why you should start your online business. And not only this, but we have also compiled a list of several online business ideas you can start with and why you should pick a particular concept.
And to add a cherry on top, we have also dedicated a part focusing on how to start your online business after selecting/finalizing your online business idea.
So, read the complete article and start your online journey with a great idea and a trusted online partner.
Why Go Online?
According to Statista, online retail sales are projected to grow to 5.4 trillion dollars by 2022, so now would be a great time to do it f you are thinking about starting an online business.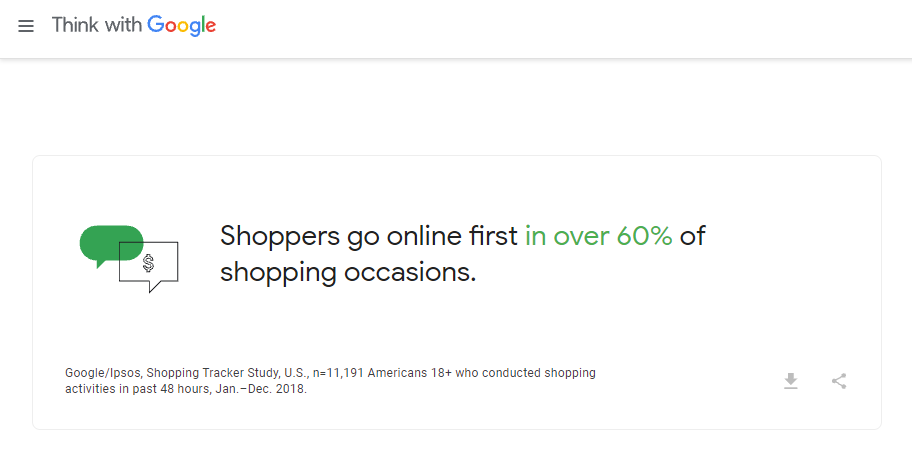 Source ThinkwithGoogle
People are increasingly shopping online, and a report states that over 60% of shoppers start their shopping journey online. As a result, today's eCommerce online businesses have enormous growth potential.
People Start Online Businesses For Several Reasons:
Online Shopping Is Gaining In Popularity
People have been shopping online for years, but the current pandemic has made it significantly more popular. Additionally, a shift in consumer behavior has been seen as now 70% of consumers only shop online to support online local businesses.
Online business owners can operate their businesses anytime, anywhere. It gives them more time to spend with their families or friends.
An online business doesn't require a storefront, unlike a traditional business. This leads to lower operational costs. For instance, with Builderfly, you can start an eCommerce store with zero investment.
Successful online businesses are not bound by local markets only, and customers can purchase products from them anywhere in the world.
Aside from displaying ads and using affiliate marketing, your online business can earn you money in multiple ways.
9 Out of the Box Business Ideas To Start Your Online Business
To make money online, you must have an excellent online business idea and a passion for running the same. If you don't have any online business ideas yet, there is no need to worry. As with this blog, we present you with nine simple online business ideas that you can use to get your own business going without quitting your job or spending a fortune.
1. Sell Clothes Online
For a long time, you might have dreamed of owning your business line. Now is the time to learn how to start an online clothing business and make your dream come true.
Build a clothing website that lets customers purchase clothing online. By using a platform like Builderfly, you can launch an e-commerce store and sell clothes online. Just add the clothing products to your site and feature-rich product information to encourage users to make purchases.
Once you receive the orders, you'll either have to fulfill them yourself or hire a third party to do so.
What Makes India A Good Location For A Clothing Business?
The readymade garment industry is a 3 trillion dollar industry. Every year, more than one trillion clothes are sold worldwide. McKinsey's FashionScope data predicts that India will be the sixth-largest garment manufacturer globally by 2022, with over $59.3 billion in sales.
The clothing market's growth can also be attributed to the aspirations of the middle class and population growth. As a result, small online businesses and large corporations alike can do well in this market.
2. Sell Art Online
With a beautifully designed e-commerce website at Builderfly, you can turn your latest artwork into a source of revenue, whether you're a painter, photographer, or musician. It is an excellent way to leverage your work if people take your art home and hang or showcase it on their walls. You can also sell prints, canvases, and framed posters through your online website or apps if you specialize in painting or photography.
Creating a business from your passion will boost your motivation and allow you to express your creativity.
Why Sell Art Online In India?
Purchasing and selling products online has undergone a dramatic change in the 21st century; India is no exception. According to a report, over INR 880 crore worth of art was auctioned in India in 2020-21.
According to another report by Statista, online art sales increased by four percent in 2019 to approximately 4.82 billion U.S. dollars. Based on these estimates, the global market for online art will reach $9.32 billion by 2024. Thus, if you start building an online store, you can target local markets and expand your brand to global markets.
3. Start A Dropshipping Store
For you to run your own business, you don't need a warehouse full of inventory. One way to get started is by entering into a dropshipping business.
Dropshipping means you create an appealing website with Builderfly and start selling other people's products (i.e., you don't handle manufacturing or distribution). And, in exchange, you receive commissions on each sale.
Taking this approach eliminates the risk of overbuying a product and losing money if it doesn't sell. And due to this, you will jump over most obstacles on your way to starting your own business.
Why Start An Online Dropshipping Store?
As per Grand View Research, the global dropshipping market was sized at USD102.2 Billion in 2018. With a CAGR of 28.8%, the dropshipping market will grow significantly between 2019 and 2025. In addition to a rise in online shopping preferences, the market is expected to experience significant growth owing to the rapid penetration of cross-border e-commerce. Hence, the development of the e-commerce industry has primarily been responsible for the rise in dropshipping services.
4. Sell Shoes Online
Have you considered using the internet to make money while getting your kicks? Then start your online shoe business. You don't need to have experience running a shoe business. You can learn how to sell shoes online today by doing the proper research. Once you are set, starting an online shoe store is more accessible with Builderfly. It doesn't matter if you don't start big. Just start small, and you can still quickly become an industry leader.
Why Sell Shoes Online?
According to Netscribes, leather and footwear exports from India were expected to reach USD 12.6 billion by the end of 2020. Also, the government announced an incentive package worth USD 364 million for these industries.
Moreover, during 2020 and 2025, a report by Businesswire projects the Indian footwear market to grow on average at an 8.28% annual rate. And since both government initiatives and industry trends are in favor, now this becomes the right time to start an online shoe store in India.
5. Sell Electronics Online
There has been a boom in the electronics industry since the advent of the personal computer. It's no wonder people are learning how to sell electronic items online these days since technology is a hot item these days. With the easy accessibility of new software, the process has been simplified significantly.
It's simple to start selling on the web even if you have no understanding of it. By creating an e-commerce store on Builderfly, you can sell electronics online in marketplaces such as Amazon, Facebook, Google, social media, and wholesale.
Why Sell Electronics Online?
According to a report, it is anticipated that 386.0 million users will be in the Consumer Electronics segment by 2025, and total revenue of US$557.3 billion in 2020 is expected to be generated by electronics & media in eCommerce.
Since, in India, one cannot be surprised by the growth of the e-commerce market all because of the exponential growth of the internet and online infrastructure, starting an electronics business online will give you a significant boost.
6. Sell Handmade Products Online
You can sell handmade products if you're particularly crafty. When you sell unique products that are hard to find anywhere else, you have the upper hand over merchants that partner with suppliers. And thanks to the customer's growing demand for handmade gift items, home decor stuff, and corporate gifting trends, handmade business demand is never-ending soon.
Your craft skills can be monetized by selling your creations online, whether making jewelry, picture frames, or furniture. You can use the Builderfly platform and create your online store to simplify the process of tracking and fulfilling orders.
Why Start An Online Handmade Product Store In India?
Due to each craftsperson's unique application of strength and enthusiasm, each product is terrific and has a distinct quality. It is essential to have a culture of handicrafts to ensure economic growth since they are a prominent source of foreign exchange revenue and employment opportunities.
According to a report by the IMARC group, approximately 718 billion U.S. dollars were spent on handicrafts in 2020. The same report also states that these markets will grow at a CAGR of around 10% from 2021-2026.
7. Sell Books Online
Despite being hit by the pandemic, India's bookstores are constantly thriving as many store owners have mastered online bookselling.
Remember when you wanted to purchase a book, but it was too expensive, and you had to go to a physical store? No worries! With Builderfly, you can turn your problem into a business idea. Create your online book store and start selling books online at an affordable price. With an unlimited listing, you can deliver all kinds of books in a single place.
Why Start An Online Books Business In India?
Online book stores in India are driven by the penetration of IT, easy accessibility, and convenience of online shopping. The digital book era and e-commerce are expected to give this market even more traction.
A report projects that ebook sales will reach $176 million in 2021 and 192 million by 2025, with a CAGR of 2.25 percent.
8. Sell Grocery Online
As a result of the lockdown in 2020-21, the entire country ordered groceries online. People downloaded multiple online grocery apps to fulfill their daily needs. And, now, it is not just a necessity but has become a habit for people to buy groceries online. So if you already have an offline grocery store, turn it into an online store and reach a mass audience. Or, if you plan to start your online grocery business, this is the right time to start.
Builderfly can help anyone start their online grocery business by setting up their website and engaging customers. A wide range of premium themes and tools are available to help your online grocery business succeed in the best way for you.
Why Start An Online Grocery Store In India?
A change in consumer behavior, growing urbanization, and the emergence of a tech-savvy generation that visits online retail shops have all contributed to the market's rapid growth over the past months.
As per the Grand View Research report, India's online grocery market stands at USD 2.9 Billion in 2020 and is set to grow with a CAGR (compound annual growth rate) of 37.1% from 2021 to 2028.
9. Sell Mobile Accessories Online
With their expensive data packages, mobile phones are now more than just devices used for calling or listening to music and have become an integral part of human life. Most people pay a considerable amount to keep their mobile phones safe.
But, due to rapid technological advancement, it becomes tough to find its various accessories in a brick and mortar shop. But with online mobile accessories, it becomes effortless to shop for a wide range of products with features like price comparison and online filters. Build your own mobile accessory online store at zero investment cost and offer all mobile accessory lovers comfort to find genuine products online.
Why Start An Online Mobile Accessories Store In India?
According to a forecast report by Research Nester between 2017-2024, the Indian mobile phone accessories market is expected to thrive at 10.5% CAGR.
And the market is expected to generate $3.54 Billion by 2024. The mobile phone accessories market, in the long run, is expected to grow due to a significant rise in the young population over the next few years.
How To Get Started On Your Online Journey
Now that the best online business ideas are now at your fingertips, it's time to start one. Follow these steps to get started:
● Select Your Product
First, you must select the product type or service you will offer when starting an online business. Consider answering the following questions to pick up a product or a service of your choice.
What is the most common problem you are asked to solve?
How do you choose your brands, and why do you like them?
Would you like to suggest a way to improve an existing product?
Identify the solutions that stand out after writing down some answers to the questions as mentioned above.
When choosing a product, consider finding suppliers, testing their products well in advance, and finalizing the products.
● Start The Market Research
Knowing if your products or services are popular in your target market will provide insight into their demand. Take a look at gaps within the market if it is competitive. You can fill in the gaps that these businesses lack to differentiate yourself from others in your industry.
● Establish a Business Plan
Let's start by creating a business plan so you can figure out what you're going to offer. This document can also be used to secure funding, in addition to serving as a guide for your operations.
You need to follow these steps to make yourself a perfect business plan:
Names and logos constitute the business identity. You should make sure they represent the values of your business or profession and are distinct enough.
Have a well-planned marketing strategy to overcome your competitors. Prepare a thorough target market, pricing model, promotional methods.
As a next step, plan your inventory management, legal operations, etc. Provide details about how your products will be manufactured and delivered.
Prepare a budget, expenses, projections, and business goal plans and report as the final step.
● Register Your Business
Now to get your business up and running requires proper licensing according to the industry and region.
Businesses in India are typically incorporated as Limited Liability Companies (LLCs). In the event of bankruptcy or lawsuits, this structure can help separate personal and company liabilities.
Another option is sole proprietorships often chosen by solo entrepreneurs. It is a more affordable option because it does not require government registration.
● Select The Web Hosting
Now, as another step to take your business online, you need a website. Here are some tips for choosing the right web hosting plan for your operations.
Generally, the first choice of freelancers is shared hosting. A small professional website can easily be created with this type of plan.
A shared hosting plan is ideal for several startups. With hosting, your site can scale along with your operations thanks to the large bandwidth and more storage. When you start to gain traction with your online business, it can handle 100,000 monthly visits.
● Register the Domain Name
A short and memorable domain name is a must when choosing the domain because longer and more challenging to pronounce domain names are less popular.
In the case of entrepreneurs, they prefer to use the same for the domain, but in the case of eCommerce businesses, the company name is best suited.
It is also possible that someone has already taken the name; if that is the case, you need to find an alternative name. Remember to make your domain name as readable as possible by avoiding symbols, numbers, and ambiguous characters.
● Design Your Online Store
Now you will have to choose the platform that we will use to build your online business website.
Builderfly is a popular option for any purpose with its flexibility and ease of use. And the best part is no basic understanding of coding is required to maximize its capabilities.
Begin customizing your site once you have chosen a platform. For those of you who aren't sure where to start, here is a list of steps:
Select the theme according to your business needs
Prepare pages for your website, like Homepage, Privacy policy, Terms and Conditions, Contact, About us, and several others.
To optimize the e-commerce site, fully enable online payment methods, optimize the checkout process, and have a detailed product catalog.
You use several plugins (if required) that are tailored to meet the business needs.
● Get Started With Your Business
Now that we've talked about your online business, let's talk about how to promote it. Follow these tips to boost your business:
A user-friendly website will also improve its ranking. Best practices for SEO should be followed. Use keywords relevant to your business and the services offered on your website to appear on search engine result pages.
Engage in social media channels that are relevant to your brand. Make yourself known on networks where your target audience spends most of their time.
Conclusion
Internet users have no shortage of business ideas. What matters ultimately is whether your business idea truly excites you. And if it does, you will be able to summon the persistence needed to keep going when challenges arise.
There is no need to go all in. Start small, build on that and grow as your business grows. You can start an online business at your own pace — that's one of the perks of starting your own company.
Here in this guide, we have provided you with nine ideas for online businesses. Choose a business idea that suits your skills, experience, and income expectations to make the right decision.
You will need to create a website after you decide on your pick. And if you want to save yourself from the hassle of buying a domain, a hosting space, and whatnot. Then you should choose Builderfly as your online growth partner.