How was eCommerce in 2021?
The eCommerce industry showed commendable growth in the year 2021. Looking at the hike, it is believed that by the end of 2021, online orders will generate a combined revenue of more than $100 billion.

This is perhaps coming from the increase in online orders noticed since April 2020. Experts are playing hard on the 71% surge in online orders, which is expected to increase in near future. Talking about digital buyer penetration, analysts believe it will grow to 28% in 2021.
The hike is accumulated contribution of already established brands like Amazon, Flipkart, etc, and some new startups. The former has been performing exceptionally and has given opportunities to numerous third-party sellers to sell and grow their business. However, we also can't deny the success stories of numerous startups that excelled in their growth records in the year 2021.
Let's have a look at some of the top Indian eCommerce startups in 2021:
1- Kiko Live
2- Kirana Kart
3- Otipy
4- Agrim Wholesale
5- Owo
6- Grabgear.in
7- SpotKwik
8- Getstors
9- Smol Coach
10- WikQik Rento
We can go on and on with the list. Like really!! It's huge and overwhelming how these new startups made their way to success. Experts are betting high on them and expect that in the coming year, more startups will emerge and create astounding success stories.
Growing eCommerce and vivid ways to flourish in it
The success stories and reason that startups can leverage the most out of online selling is the range of marketing and selling options. Depending on budget, niche, target audience, geographical location, and other parameters, sellers can choose the platform to start their online journey.
There are primarily three ways to start the online journey. The list includes:
1- Social selling
2- Registering on marketplaces
3- Create your own online store
Each of these has a list of perks and growth opportunities. Let's have a look at the ways and extent to which they helped startups and independent sellers reach their goals.
Growth of Social Selling in India

Social selling is one of the most prevalent ways to upscale online selling. Especially for individual sellers and startups, social media platforms have helped them upscale their online sales.
This can be by creating a store on them or promoting your products to the vast audience base. India today has 96.3% smartphone users, 56.4% laptop/desktop users, and 23.1% tablet devices. This clearly explains the access to the internet the Indian population has. The same report reveals that on average Indian users spend more than 6 hours using the internet.
Now that we know these platforms are easily accessible to the Indian population, let's have a look at them individually and excavate the ways they have helped businesses grow in 2021.
Facebook
As of January 2021, 599 million Indians were visiting the social media platform. These users were spending around 20 minutes on each visit, making it the third most visited place on the web after Google and YouTube. If we look at its ranking based on time spent per day, the social media platform ranks fifth with an average user spending 18 minutes 47 seconds per day.
According to a consumer culture report shared by 5WPR, Facebook is still the best social media platform to sell and promote products.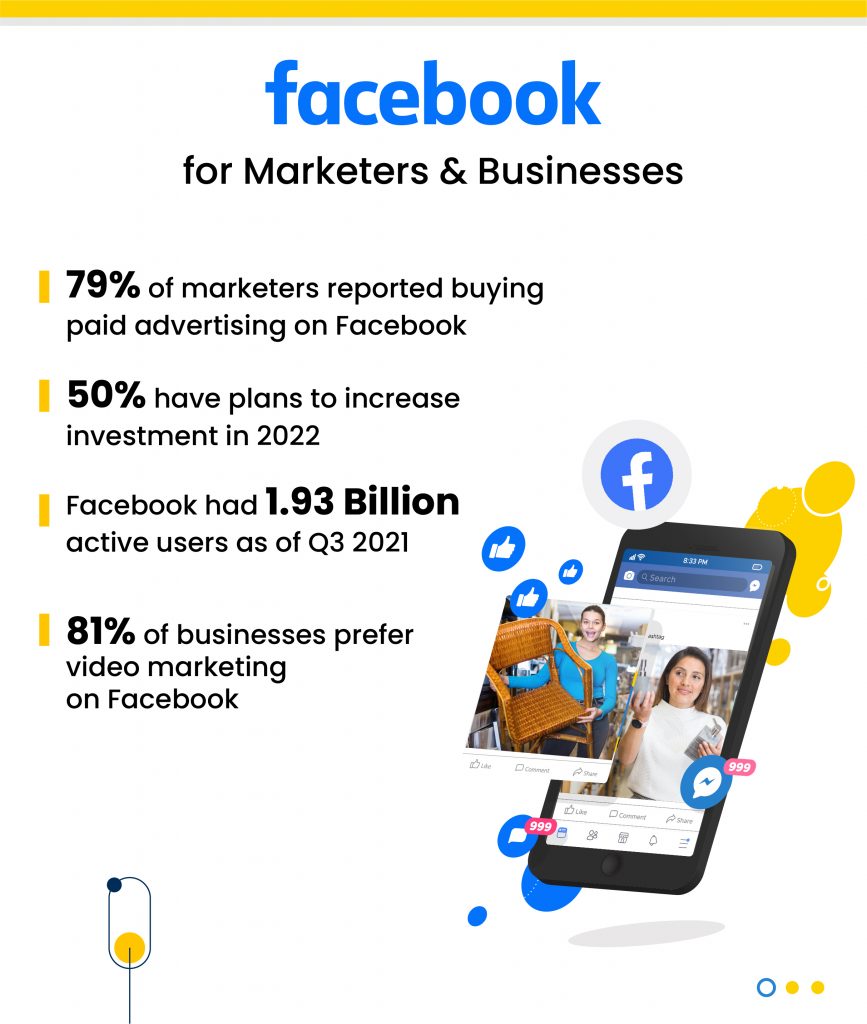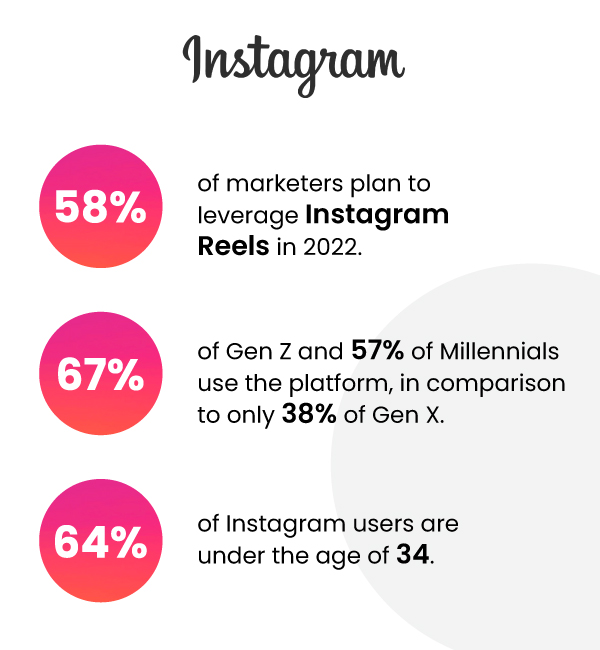 Instagram
According to a report shared by Instagram, 90% of users follow businesses. In another survey of over 1000 marketers organized by HubSpot, 73% said they prefer Instagram for Influencer marketing. With over 1 billion users, Instagram is the 5th most popular social media platform after Facebook, YouTube, WhatsApp, and Facebook Messenger. Out of these 1 billion users, 500 million log in daily to check the stories.
On average, an Instagram user spends 30 minutes/day scrolling through the feeds and doing other activities on the platform.
WhatsApp
WhatsApp always had all the attention since its launch. However, major changes came after Facebook acquired WhatsApp for $19 billion in February 2014. Despite all the controversies that were raised with the acquisition, WhatsApp remained the market leader even after that.
The platform has more than 2.5 billion active users across the globe and 390 million in India alone. The platform has the highest average time spent by users in India counting to 17 hours per week. WhatsApp launched an upgraded version for Businesses in 2018. Since the launch of the new version, 5 million businesses started using the new app version.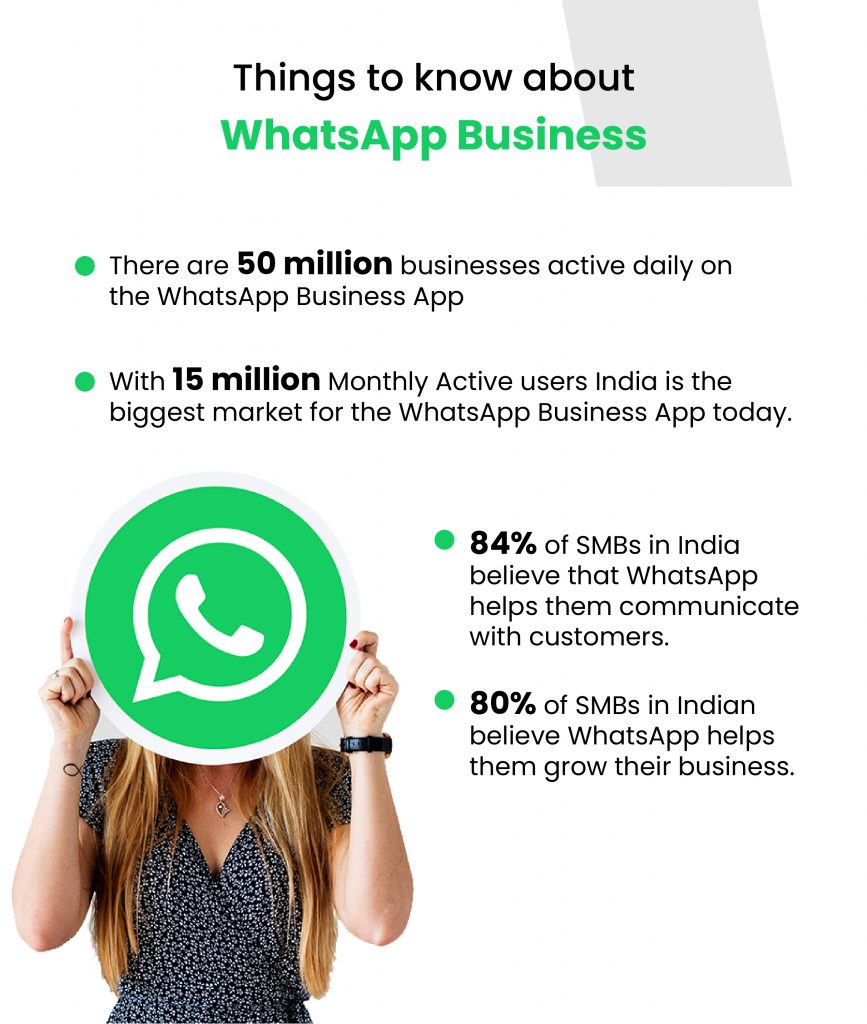 Contribution of marketplaces in eCommerce
While there are numerous marketplaces in India, Amazon and Flipkart are two of the leading online marketplaces for sellers and buyers. Just like in preceding years, experts believe these two marketplaces will keep dominating the industry.
While each of these marketplaces has its own set of perks and visitors, the two leaders we just mentioned are serving a vast audience.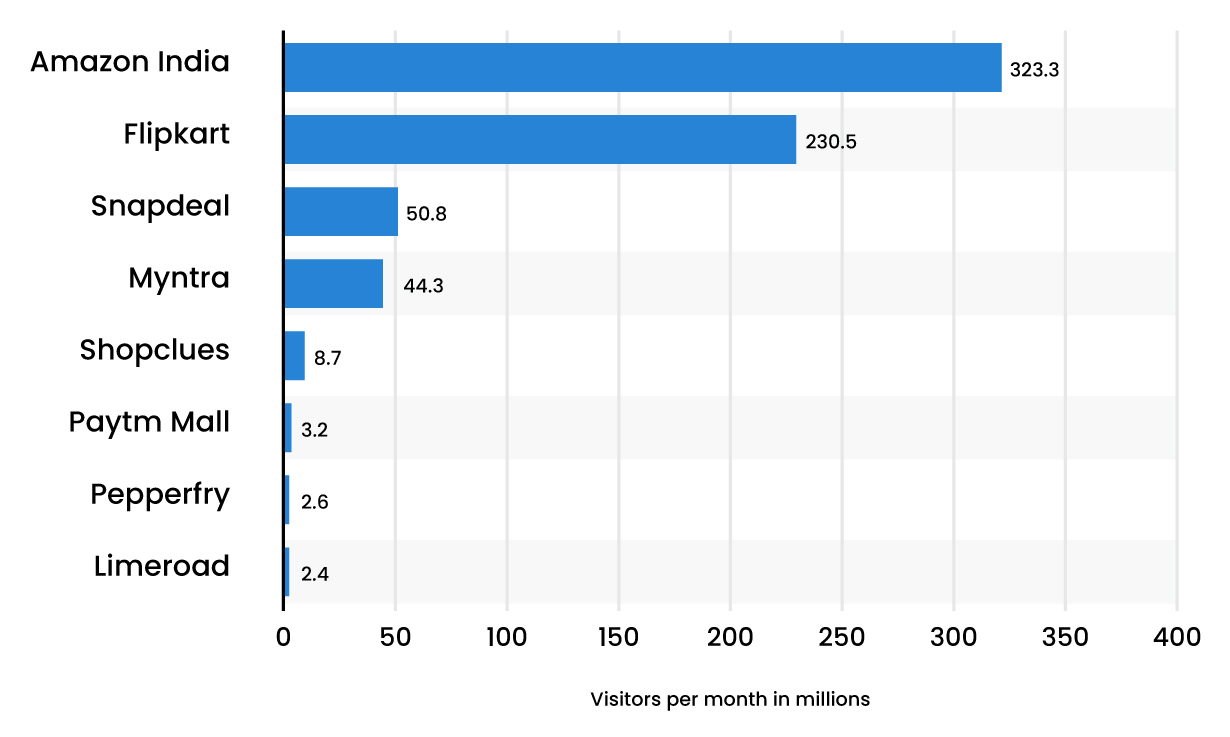 The chart above clearly shows the million Indian visitors these two marketplaces received in 2020. For a better understanding and a deeper analysis, let's have a look at them individually.
Flipkart
Flipkart is one of the leading online marketplaces in India. It has over 200 million active users registered on it and it reported a revenue of INR 34,610 crore in the year 2020. Need to mention, that the mentioned revenue was 12% more than the preceding year 2019.
The marketplace has over 4,00,000 sellers registered including the 2,50,000 small sellers like artists, craftsmen, and weavers. As reported, on average, it handles 8 million shipments every month.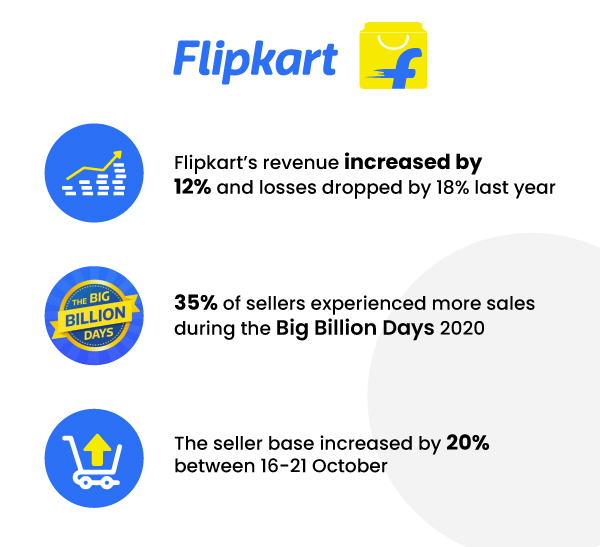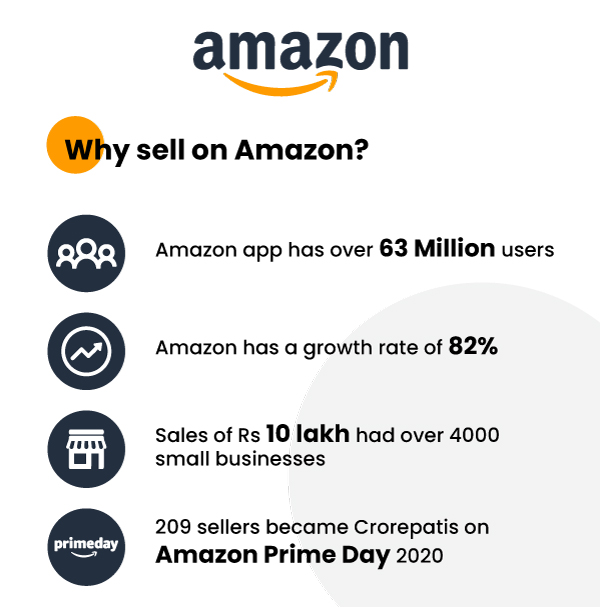 Amazon
In 2020, Amazon sellers reported sales of $300 billion, which is $100 billion more than 2019. Talking about India in particular, there are 218000 active sellers on Amazon India. It has more than 100 million registered users to date selling 168 million products. The platform has a market share of 47% and generated revenue of 11,028 Crore in 2020, higher than 7,777 Crore in 2019.
Starting online store in 2022. Things to keep in mind
If you are planning to launch your first online store in 2022, trust us it still isn't late and there's a lot of potential in the market. You still have huge scope to grow and leverage the benefits of this continuously growing online market.
However, to excel in it, you'll have to keep in mind a couple of things that can help you grow your online store by increasing sales and boosting your presence.
1- Being Omnipresent
One platform isn't sufficient if you want to grow in today's ultra-competitive eCommerce market. Having said this, you must ensure being present on social media platforms and marketplaces while having your online store.
Besides selling, you also have to be present through your marketing campaigns. Define your target audience, their geographical location, age, sex, etc. This will help you define the platforms to establish your presence and the way you should do this. Builderfly can help you create and manage your online stores on all these platforms with ease.
2- Create a personalized presence
Unlike your physical store, you do not serve your buyers directly (face to face) with an online store. Your store is what creates your first impression. The way you present your online store defines your first impression. This is why experts say you personalize your online presence.
With Builderfly, you get a range of themes that can help you design your online store flawlessly and ensure building the best impression in front of your visitors. You can also customize other aspects like pages and user journeys. Builderfly ensures that you create a personalized presence for your visitors.
3- Prioritize experience over products
No matter how good your product is, if your buyers are finding it difficult to buy, pay, or get them delivered, they'll never complete a purchase. This is why we said, experience over products. There's a thin line that separates presence and experience. While the former is what your buyers see in front of their eyes when they visit your online store, the latter is intangible and is about the backend.
This primarily includes website load time, ease of buying a product, payment mediums, shipping duration, etc. Builderfly has partnered with premium payment portals and shipping partners. This makes it easy for you to define a seamless experience for your buyers.
4- User-centric marketing
Most brands try to become creative and end up doing it above the neck. You do not have to do anything 'outside-the-box'. Simply create marketing campaigns that prioritize and answer your target audience. It has been often noticed that businesses end up making a sales pitch while marketing their products.
With Builderfly, you can continuously track the performance of your online store. This will help you learn how well you have created them and eventually take the required steps to customize your campaigns.
5- Be prepared for change
Last but not the least, eCommerce and user expectations have changed over time. Needless to mention, this will change in the future. As an online seller, you have to be open about these changes. But don't worry, there's nothing major with it. Experts believe, the primary changes will come with buying behavior, expectations, marketing strategies, etc. Acknowledging this, if you keep a track of your store's performance and that of marketing campaigns, you'll be able to easily analyze and identify these changes.
Most Profitable Products Online in 2022
We can't deny or sideline the miraculous growth of online businesses during and after the Covid-19 pandemic. While initially, people would prefer buying books, clothes, electronic items, and FMCG products online, they have not inclined towards other product categories as well.
To better evaluate the products that'll be the best selling in 2022, let's first have a look at the most profitable products in 2021.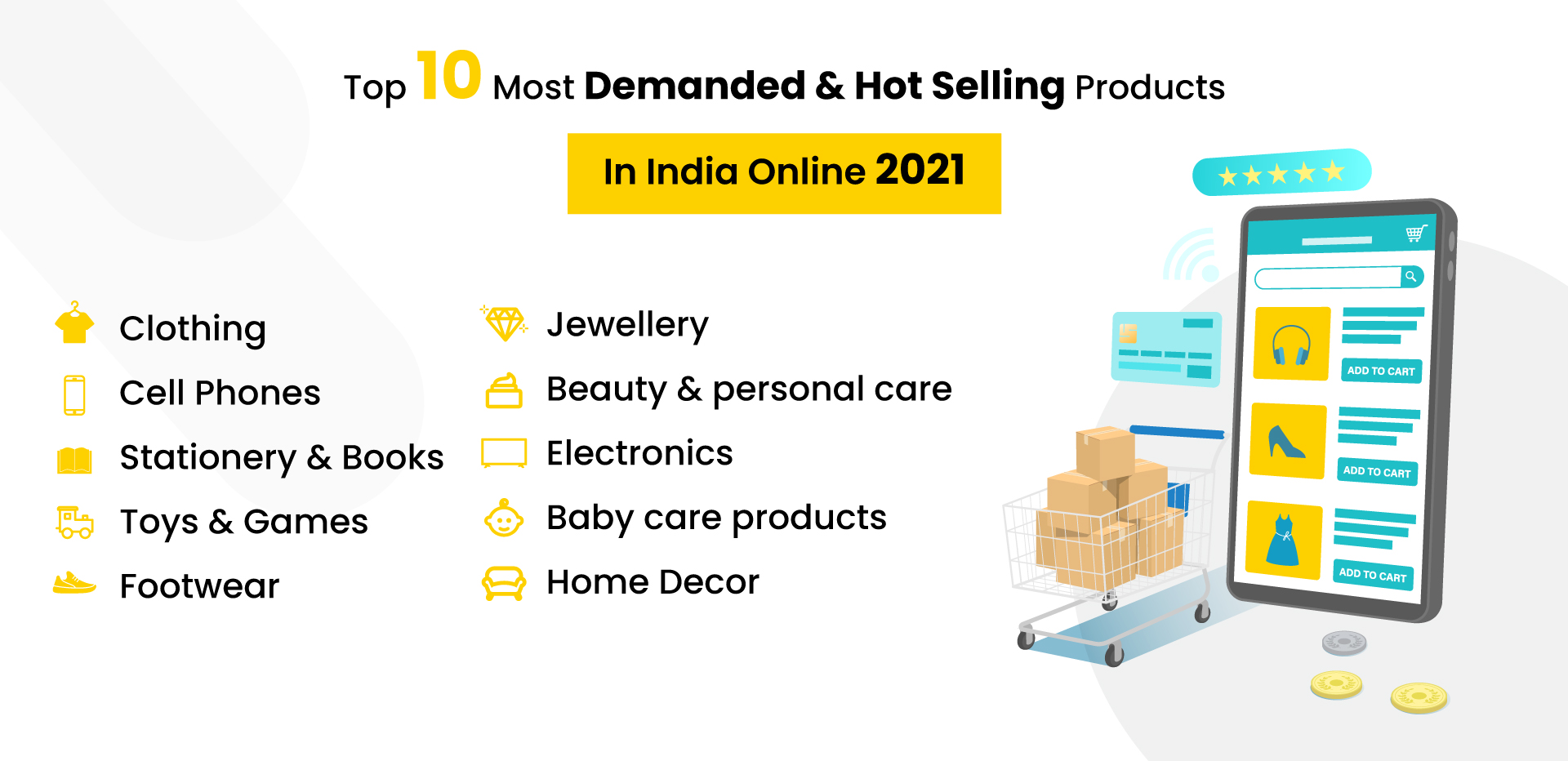 As it can be seen in the list above, categories like toys and games, footwear, baby care products, etc have emerged and made a place in the best selling list. Also, expensive items like jewelry and tough to deliver products like home decor have made a commendable space.
Experts believe that the current list of best-selling products is somehow the mirror image of sellers. The online industry has maximum sellers from these categories. Having said this, if more sellers come forward and start selling other products, the list might notice changes in 2022.
Key points to keep in mind to grow eCommerce in 2022
There's a famous quote in the business world, "What they see, is what they buy". Having said this, you need to be omnipresent. However, that's not a new thing we told you. The key necessity is to manage and maintain the right proportion of each presence.
This is where you need a tool like Builderfly that can help you manage and track all your online stores from a single dashboard. Let's have a look at some of the key points to keep in mind to grow your online commerce in 2022.
1- Balance between your store and social selling
If you want to grow in an online business, being present at one place or relying on the sales of just one store isn't sufficient. You have to ensure striking a balance between sales on your own store and that on social marketplaces. Not just this, you leverage the two simultaneously to drive the traffic and further deliver your buyers a seamless experience that's solely dependent on their comfort.
2- Balance between Social selling and marketplaces
This is another side of the same coin. Selling on marketplaces like Amazon and Flipkart buys you immense trust and goodwill. However, social selling allows you to better interact with your customers. Connect the two channels to leverage a flawless selling experience. Besides, you can eventually grow a community of your buyers and keep them updated with your new products and offers.
3- Keep real-time track of marketing campaigns
Creating marketing campaigns on leading social media platforms isn't sufficient. Perhaps, that's the first step you can take to promote your business. The need is to track the performance of your marketing campaigns and based on results, design your future campaigns. Customer behavior is highly unpredictable, and you have to keep experimenting to get the best results out of your marketing campaigns.
4- Keep experimenting until you find the desired results
This is where you need to leverage the sales & marketing channels and other vital tools to grow your sales. Builderfly has your back. It not only provides you access to a wide range of tools to grow your presence and get noticed, but it also allows you to track the performance of your online store and marketing campaigns. Based on studying these, you can keep experimenting until you find the desired result.
5- Just the way you like it
Before starting your online store or creating a marketing campaign, think from the buyer's perspective. Wear their shoes to analyze and create exactly how you'd prefer being a buyer. Simultaneously, don't just make sales & get lost in the pool of sellers. Create a Brand Identity to attract repeat orders and boost customer loyalty. Remember, the key is to think like a buyer, not like a seller. The latter may make you poky.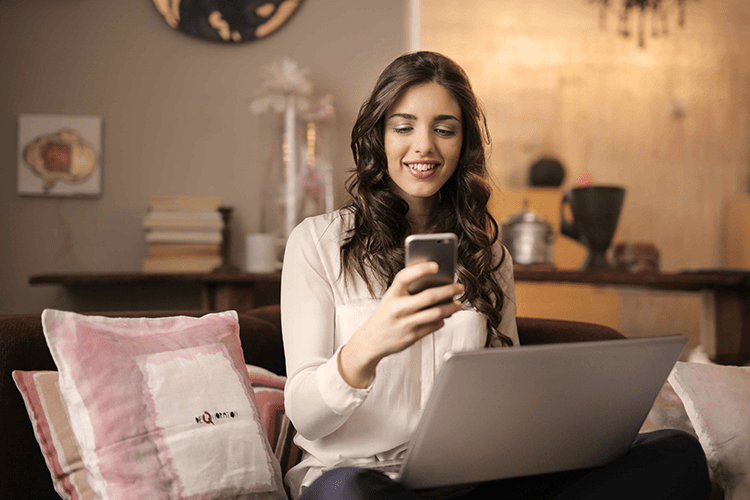 Conclusion 
eCommerce is an everchanging industry that's largely dependent on participating sellers and buyer behavior. The above-furnished details are based on reports sharing the eCommerce growth rate in 2020 and 2021. Aligning ourselves with the same datasheet and YoY growth of the industry, experts have made predictions. If you are planning to start your online business in 2022, we'd highly recommend that you closely study these reports and make the right decisions. Just in case you have any other questions, please feel free to connect with us. Our eCommerce experts will be happy to guide you.
Go Online with Builderfly