What is Augmented Reality?
Are you curious to know what augmented reality is? AR technology is the perfect blend of computer-generated input with actual surroundings. The applications of AR may vary and include sounds, graphics, videos, GPS overlays, and more to engage users with the content and enhance their experience.
These AR applications interact with the physical world in real-time and instantly respond to changes in the surroundings. Even though AR has been used for decades, online shopping has opened gates for more new ventures.
The power and potential of AR extend far beyond what it was doing before. Today, companies are using AR to improve the productivity of their products and expand their product's life.
AR has opened new doors for the world, and yesterday is just history in the making for this technology.
So what makes AR so powerful as a technology that everybody wants it?
AR augments the real world. For example, Pokemon GO is one of the most well-known augmented reality applications. Users can play the game while walking down the street to their homes. They catch a digital character in specific places around a place that actually exists.
AR is portable. You can access AR applications from your smartphones, tablets, laptops, and more. That means, wherever you go, you can carry an AR with you. Like AR Glasses, you don't need to clean the room to have a good experience.
AR requires less equipment, which means more people can enjoy this tech and have a gala time. This makes AR applications much more accessible and much less work.
Also, AR gives power to the hands of the user. So now your user is in charge of their presence and how they interact with a blend of both – the physical and digital worlds.
Top Statistics Of AR In Ecommerce?
Here's a list of a few statistics that you must know before choosing AR for your online store:
How Does AR Benefit Ecommerce Sellers?
AR simply means more sales in the eCommerce industry. With its wide range of applications, it has enhanced brand experience. It helps industries to understand what customers want. Here are some other benefits of using AR in the eCommerce space:
Engages Customers:
With digitalization touching the sky is no more a dream, people are increasingly becoming dependent on technology to satiate them. This includes shopping too. That's where AR can help you engage customers and convert them. As per research, customers are 11 times more likely to buy through AR. For example, having a digital try-on facility at a store would excite customers to visit the shop even if they don't want to. Therefore, in this way, AR helps in engaging customers.
Improves Customer Satisfaction And Reduces Returns:
Research shows that introducing AR increases customer satisfaction by 73%. Making products tangible increases users' confidence and reduces returns. With online shopping, it is difficult for users to try on clothes. But adding AR to the mix can help users try on clothes virtually, thus making them more likely to shop for the products they would otherwise ignore.
Customizes The Shopping Experience:
AR in eCommerce improves the shopping experience by making it interactive. When users can try on products virtually, they can easily customize the product according to their needs. It would make them opt for customization & place orders for demand-ready products. Fulfilling this demand for personalized products, you can increase the average cart value of the orders.
Reducing Hygiene Issues:
Several people stopped visiting stores altogether to avoid the possible risk of infections. This means your customers are moving towards shopping online. But, still, the need to physically try on the clothes is still dominant. That's where AR fills the void. You can help customers try on clothes virtually with AR from the comfort of their homes. The experience is similar to trying on clothes in the store, minus the physical touch and hygiene issues.
Top Ways Ecommerce Sellers Are Using Augmented Reality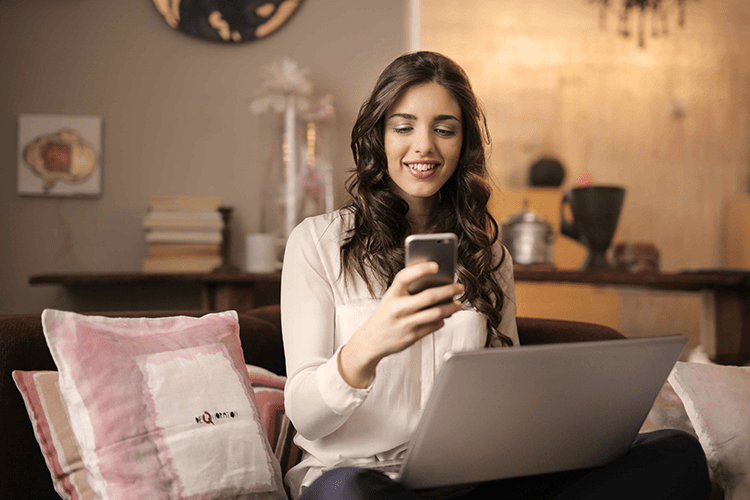 Take Customer Experience To A New Level With Augmented Reality
As seen, AR is transforming eCommerce by taking customer experience to a whole new level. Some product categories can be tough to sell online because it's often difficult to interpret how they would look in real life.
Before AR, customers would return the products because the product failed to meet their expectations. But, with AR, customers can virtually try on the products while shopping online and get a feel of how they would look in real life. Lenskart is a prime example.
Now that you know AR works in eCommerce and benefits sellers, it's time to evaluate whether it's the right choice for you.
If yes, then be a part of Augmented Reality in e-commerce with Builderfly.
Get started today!
FAQs
What is Augmented Reality in Ecommerce?
Have you ever wished how wonderful it would be if you could try on the dress before buying? Well, augmented reality is making this wish come true. Augmented reality allows customers to experience the products and services before buying. This not only reduces the return rates but also improves customers' satisfaction.
Are shoppers really adapting to AR?
Yes. Shoppers are increasingly adopting AR. Research says including AR in eCommerce can boost conversions by 90%.
What are some top examples of AR in eCommerce?
Popular examples of AR in e-commerce include Lenskart's 3D technology, whichever users try on virtual glasses before buying. Other examples include the Ikea apps which help buyers try on their furniture before purchasing.
How does Augmented Reality enhance the reality of online shopping?
Augmented reality allows customers to get the feel of their products. Customers can actually experience how their products would look in real life. In other words, the 3D model helps customers make better purchasing decisions.