Shopping online has been growing globally for a few years now. Moreover, according to Statista, retail sales are estimated to increase by 22% by the end of 2023. This represents a potential increase in customer reach, online traffic, as well as conversion rates. Another report from Statista shows that the e-retail revenues are predicted to reach up to $6.54 trillion by 2022. With such stunning stats, it is evident how ecommerce is growing year after year, globally.
With new competitors coming up every day in the highly crowded ecommerce market, it's only those entrepreneurs who go that extra mile for their consumers, who manage to survive in the market. Interestingly, the ecommerce brands that are successful in converting their visitors into first-time customers are the same who successfully convert their customers into their brand messengers, irrespective of the competitions involved.
Have you known their secrets to achieve higher conversions and increased revenue every year? If not, do not worry, we have got your back. In this blog, we will be showing you some of the most effective ways to create a marketing plan for an ecommerce business in 2021 and beyond.
What is a Marketing Plan?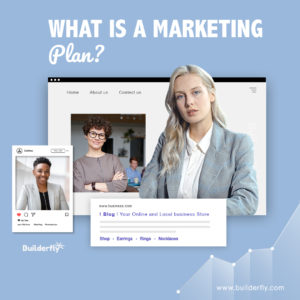 A marketing plan reflects a company's strategy to promote their brand, communicate with their existing customers, and acquire newer customers. A marketing plan is to ensure maximum returns on investment with effective use of time as well as resources. For drawing out an effective marketing plan, you must determine the goal behind setting up your marketing plan, the mission statement of your company, the target market, buyer personas, SWOT analysis, and the promotion strategy.
Ways to Create a Marketing Plan for an Ecommerce Business
There are three major channels that can be used for marketing an ecommerce business, there are:
Search Engines
Some of the major search engines in the world today are Google, Yahoo, Bing, Ask, and DuckDuckGo. As per Statcounter, Google is dominating the search engine market with 92.85%, which is only 1.46% for Yahoo, 2.69% for Bing, and 0.6% for DuckDuckGo. Just so you know, search engines are one of the most compelling ways to earn relevant traffic for your ecommerce store. Mainly, there are two ways to earn traffic for your ecommerce business; one is organic and the other one is paid visits. Although there are paid visits for marketing ecommerce business, SEO or Search Engine Optimization is something that every business must have in order to build a brand.
Content
Content is clearly one of the oldest ways to promote your ecommerce business and grab the attention of the audience who are interested in reading the content you provide. If you compare content channel with other marketing channels, this would be a clear conclusion that content marketing is one of the slowest ways to generate leads. However, it is also one of the most important mediums to build deep-rooted faith among the buyers and build brand image. Content can also help businesses gain the attention of their potential customers, contribute the content you wrote to other platforms and market the products you sell via your online business. An effective content marketing strategy can eventually boost your ranking on the search engines.
Social Media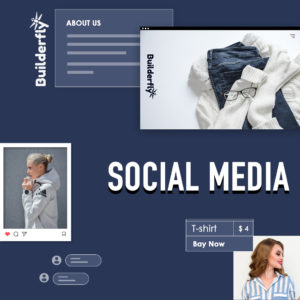 You, I, and everyone who has a smartphone in hand would be surely using one or the other social media platforms. It is a great medium to generate relevant traffic for your ecommerce business. Social media platforms such as Facebook, Instagram, Snapchat, LinkedIn, etc. are quite beneficial when it comes to extending your customer reach across borders and drive more sales. Posting quality product images on such social media platforms can pump up the followers that eventually bag you more sales for your products.
Now, in order to completely enjoy the benefits of the rise in online shopping, it is quite important for your business to draw a strategy for business growth that pushes your business more towards achieving your business goals. And, one of the most efficient ways to draw a growth plan for your ecommerce business is to chart out an effective marketing plan.
In order to create a marketing plan for your ecommerce business, you'll need some serious time for research to analyze and determine the changes that are to be done in your current marketing plan. Therefore, we are trying to cut down that time and help you with creating an effective marketing plan for your ecommerce business.
Research
Although we can help you with providing you the data, genuine research from your end is equally important. You must understand what has to be improved and what requires your attention before starting with creating a marketing plan. You can consider conducting an overall content auditing to know what you are missing out on and what can be done. Conduct a SWOT analysis of your ecommerce business to align with your competitors. Gather all the essential information and analyze them to understand the changes you need to execute.
Set Goals and Time Frame
Next, you have to set goals for your marketing plan which determines what you or your team shall achieve by the end of the marketing plan. The goals you set have to be realistic as well as achievable for the best results. The goals you set would not matter unless you have done that in a specific time frame. The time frame you set must be far enough to help you put the required efforts for achieving your goal, but also, it should be near enough to be achievable for your business. Also, consider setting up a budget for your marketing plan, so that you do not over-spend or under-spend on your marketing strategy.
Determine the Metrics
You need to determine the metrics or the Key Performance Indicators you shall use in the process of marketing your business in order to measure the success as well as the completion of your marketing plan. It could be anything that fits your business.
Track the Progress
A marketing plan is not something that you make and leave it aside. You have to keep track of the progress of your marketing plan to understand the effectiveness of the same.
Conclusion
The benefits of having an effective marketing plan are never-ending. It can help you drive sales, increase brand awareness, and most importantly, improve your overall brand strategy. Try out these most effective, tried, and tested ways to create a marketing plan for your ecommerce business and witness the drastic changes in your sales, customer base, as well as business revenue!