If we go back to our childhood, many or some of us would relate to how businesses worked then. The person who tries out the products and services from the businessman would recommend it to everyone they know. In fact, the bond between the customers then was such that if a new customer acknowledges the person who sent them, they might even get an additional discount. Those were the times when buying and selling businesses completely relied on referral marketing. Even today, it is one of the most trusted classic marketing strategies, used by many ecommerce stores and websites.
Marketing turns out to be the most effective when it feels as effortless as it can be. It can be termed as effective when customers land on your website through a referral. Everyone understands the power of advertising through word-of-mouth. However, what marketers generally miss out on is that word-of-mouth marketing is not something that occurs completely in an organic way. You, as an online seller, can take a step forward to encourage your customers to spread the word to their near and dear ones.
As an online seller, you might be in constant search for ways to drive traffic to your ecommerce website and stimulate conversions. Every seller wishes to spend on their resources smartly so as to invest in every possible growth. Referral marketing has become an integral part of ecommerce businesses that aim at growing sales without burning cash over marketing tactics that do not assure positive results. Despite knowing the impacts and benefits of referral marketing, many businesses are still not using it to get more sales and customers; sadly, leaving their money on the table.
So, what is a referral marketing program?
A referral marketing program can be defined as an essential system to incentivize the existing customers to refer new customers to your business. When the new customers (who came to your store via referral), makes a purchase, the marketer rewards the referrer with a discount, credit, gift, or anything that makes them feel valued. Referral marketing programs are sometimes known as affiliate programs or refer-a-friend programs. Irrespective of the names, it is simply a way to influence in the form of informal recommendations.
The most popular forms of referral marketing are as follows:
Sending invitation links through friends' lists.
Sharing links on social media platforms.
Sharing automatically generated texts on social media platforms.
Sending emails via address book or friends list.
Offering coupons or promo codes.
Why is referral marketing a powerful tool for ecommerce?
Ecommerce businesses thrive on getting visibility by more and more people, every day. The more visibility, the higher the sales, and the greater the referrals! Well, let us talk about why referrals are important for ecommerce businesses. Below are a few points that may prove why it can be a powerful tool for ecommerce:
It is easy to set up: Many online referral marketing ready-to-use tools are available in the market and once you set up the program and install the right widgets, you are good to go. Your customers get everything they need to spread the word! Moreover, they run automatically once you set up. There is nothing to do after the setup, apart from taking new orders!
It allows you to determine the CAC: Although you may have drawn a few ways to determine your CAC or Customer Acquisition Costs, you might still not know the exact value for the same. With referral marketing, you can count every penny you spent for acquiring customers as you are the one who sets the rewards for the referral!
It enhances customer loyalty: When you reward customers for referring the products, both the referrers as well as the referred customers feel secured about investing their money in the right place. Both types of customers would then continue purchasing from your store rather than your competitors. This eventually boosts the customers' loyalty towards your business and with such continuous efforts; you get loyal customers in the long run.
How to implement a referral program on an ecommerce website?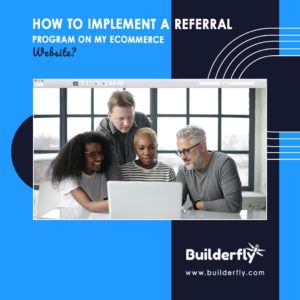 Now that you know what a referral program is, how it works, and why is it a powerful tool, it's time to dive into the topic of our day: How to implement a referral program on your ecommerce website?
Define the incentives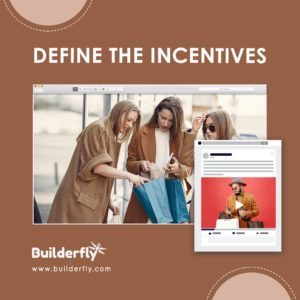 Referral programs, as mentioned earlier, are ignited through incentives. The major motivation for signing up for the referral program is to receive the promised reward. Therefore, as an online seller, you need to define the incentives you plan to give to your potential referrers. The incentives for ecommerce referral programs can be inclusive of free products, product samples, discounts, store credits, etc. These incentives are a great way to ensure that the amount you spend on referral marketing comes back to you through the new as well as the old customers. However, you must keep in mind that if the incentives you define are too big, customers shall refer your products to others solely to receive the incentives. On the flip side, if you give only the right incentives, you can expect the existing customers to support your business through their referrals. Also, based on your budget, you need to decide whether you wish to incentivize only the referrer or both, the referrer and the new customer.
Design a dedicated landing page
Although landing pages are built in a way to introduce referral programs to your ecommerce store, you must know that it is an outright necessity. A landing page lets you dedicate a key location from where the customers can find everything to know about your referral programs. However, that landing page's objective must be to clearly showcase the value of joining the referral programs to your potentially future ambassadors. The landing page must have a clear call-to-action as well as truly compelling reasons to join the referral program, and that can be done with a dedicated landing page. Once you have created the landing page, your next job is to bring traffic to that page. Consider linking the landing page to some of the most important places of your website as well as sales channels.
Market your referral program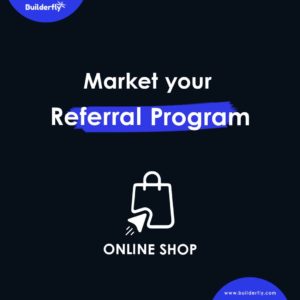 Simply creating a referral program may not be sufficient. Like selling the products, you need to market it before expecting people to participate in it. One of the most popular ways to market your referral programs is via time-based or induced email campaigns. Consider encouraging a customer who recently completed a purchase from your store to share the referral link that can benefit both the referrer as well as the referred. Some popular ways to market your referral program is to directly post on the social media channels, create interesting contests on social media platforms, and sending emails to announce your referral program launch. You need to be sure to integrate your referral programs with every new purchase of the product. The best place to add the referral program information is on the post-purchase confirmation page as it is the perfect time for you to capture your customers' attention if they have a happy purchase experience.
Track your referral programs
If you are not tracking your referral program performance, all your efforts, time, and money shall go in vain. You need to keep a close eye to determine how effectively your referral programs are being integrated into your customer base. By doing so, you'll be able to determine whether any areas need improvement and that what is to be done to motivate customers to opt for your referral programs. Seek your customers' feedback and ask for the areas they want you to focus on and improve. Also, make sure to thank your customers for referring your products and services. Reward them enough to keep them motivated and valued. After all, happy customers and referral programs are what help you grow your customer base.
The Final Words
Referral marketing programs are known to be one of the most effective ways to develop your ecommerce business. With the right use of your existing customers and loved ones, you can multiply your sales as well as customer base into infinite folds. Your monetary investments in implementing a referral program will be fruitful if you follow all the points mentioned above. Moreover, you may even earn more than what you spent if your referral programs touch the skies. If you have already been in the ecommerce industry for a while, you might have figured out that referral marketing is one of the fastest ways to boost your website traffic as well as your sales. It is one such popular marketing strategy used by many ecommerce giants including PayPal. However, make sure that you are not just creating one and leaving it aside. Put your efforts into monitoring your referral programs and the rewards will be much more than the incentives you pay for the same. Lastly, take a look at the best ecommerce platform, Builderfly, to build an ecommerce store, if you do not have one!