10 Hot Selling Products To Sell Online
Online sellers are adding more and more everyday things to their list of most-wanted products every day. It is now the most appropriate time to give customers an option for a high-demand, low-supply item in India.
Still, the majority of e-commerce businesses in India are unable to reach their full potential. The main reason for this is that they do not pay attention to what the customer wants. Companies are unable to determine which product to offer based on customer needs, current fashions, and advertising value.
Possibly you are also wondering what online items you should sell as a rookie online seller. Primarily, when there is neck-to-neck competition within the market, and most e-commerce stores use the same system.
To save you from this dilemma, we have compiled a list of 10 hot trending items to sell online. These items will help you increase your business revenue and boost your brand awareness.
Boost Profitability with these Most Demanded Products
Start Online Clothing Business For Fashion Lovers
In terms of product sales, this sector definitely has the most as it values around 3 trillion dollars. India's top-selling products fall into the apparel and fashion accessories category. There are hundreds of online stores selling fashion accessories and apparel.
Clothing businesses have indeed significantly been positively impacted by online shopping websites.
"I like my money right where I can see it…hanging in my closet."

-Carrie Bradshaw
Most people search for and buy clothing online. Customer searches include ethnic wear, innerwear, and sleepwear. They wait eagerly for the sale period when virtually every item in the store is discounted. This leads to increased sales and revenue.
Start Online Cell Phones Selling Business For Gadgets Lover
The sheer volume of mobile phones available on e-commerce sites like Amazon makes them the most popular product to sell online. The number of mobile phone subscribers in India is approaching the population of the United States. This is a highly significant statistic that will only continue to grow in the years to come.
To be happy in this world, first, you need a cell phone, and then you need an aeroplane. Then you're truly wireless.

-Ted Turner
Online cell phone sales can be targeted at virtually any demographic. It is easy to buy them in bulk, store and ship them. However, it is essential to select good cell phones for a thriving online store to increase your product sales in India.
Start Online Stationery and Books Business For Book Aficionados
Buying a book on the open market can be a long and laborious process. While, with eCommerce sites, buyers can easily find the writer they wish to read a book. With this logic alone, in 2018, 1200 startups were founded. Bookworms who shop online consider this a blessing, and their happiness is contagious. They can purchase any book from the comfort of their homes, no matter what genre they are in.
When I have a little money, I buy books; and if I have any left, I buy food and clothes.

-Erasmus
On the other hand, Stationery is one of the newly launched products as a result of the lockdown. Stationery that is not common in shops, such as print-on-demand and unique items, can be quickly sold online.
Start Electronics Online Business For Fun Lovers
Since technology continues to grow and gadgets become more and more popular, the demand for electronic goods will increase. In 2025, the market is projected to surpass $511.06 billion on the back of a CAGR of 10%. In the Indian e-commerce market, this is the category with the highest sales volume of all. When electronic appliances were not available online, customers were reluctant to purchase them. That has changed dramatically since the emergence of the e-commerce industry.
"Electronics is the winner of the day!"

-John Ford
Online purchases of mobile phones, home appliances, and small appliances have become increasingly popular in recent years. Mobile phones, PCs and accessories, televisions, headphones, and other electronic goods are among the most popular items purchased. With online mobile accessories, customers can browse your entire selection and choose which supplements they want to buy.
Start An Online Footwear Business For Shoe Lovers
The online market has become an important place for young and middle-aged people to search for and order footwear. Various online shoe stores in India offer consumers a wide assortment of footwear. With their single portal, both Men and Women can shop from a wide range of designer clothing, local footwear brands, and handmade shoes. And the conversion is close to 19 billion pairs of shoes per year.
"If I ever let my head down, it will be to admire my shoes."

-Marilyn Monroe
The prices on these sites are much lower than in physical stores, which allows them to offer high-quality products at an affordable price. People can purchase discounted brand name footwear on these sites. This is why the Indian eCommerce industry is trendy in this category.
Start Online Jewellery Store For Gem Addicts
Jewellery products are becoming very popular among women in India, especially online. The industry is expecting to thrive and touch 292 billion dollars by 2025. On special occasions, jewellery is usually worn as an adornment. You can accessorise your outfit with a beautiful necklace or bracelet. The majority of women love all types of jewellery, whether they are gold, silver, platinum, or artificial.
"Keeping calm is secondary, keeping jewellery is primary."

-Unknown
Consumers find it easy to shop for fashion jewellery online. This gives them the luxury of shopping for their perfect piece of jewellery from the best online stores in India. Customers can also order custom ornaments & designer ornaments through these retailers, making them a lucrative online category for shoppers.
Start Online Beauty And Personal Care Business For Body Conscious People
Just as women love their diamonds, they love their makeup sets. A new generation of online makeup stores makes shopping for beauty and personal care products easier. These stores sell almost every type of beauty product, no matter what the brand or style might be. Look at a great example of the unicorn Naykaa which blows across the historic number over the roof with heavenly cosmetics products of a variety of brands, pampering and spoiling those ladies 🙂
"Nature gives you the face you have at twenty; it is up to you to merit the face you have at fifty."

-Coco Chanel.
This is a 530 billion dollar industry today. India has long been a market for skincare products, and this position will only get stronger in 2021. This is a 530 billion dollar industry today. India's consumer base is now more inclined to choose organic and natural products over others due to increased awareness of their skincare choices. Thus, consumers look for products that target both their wants and their needs.
Start Online Toys And Games Store For Kids And Their Parents
Today, most people prefer to order their products online, since they are easily accessible and delivered. And toys and games are no different from any other. Kids' toys and games can be found online on several websites.
"Toys are children's words, and play is their language."

-GARRY L. LANDRETH
The 1.5 bn Dollar industry is shifting towards the online trend. And, as a result, the market has become a blessing for parents who are looking to entertain their young children with toys and other games. There are many new and old products available on e-commerce websites. You can fulfil the fantasy of children, ranging from board games like Ludo and Monopoly to action figures and battery-operated toys.
Start Online Baby Care Products Business
Shopping online for baby care products is a common practice for modern Indian parents. Baby products are widely purchased online by customers due to one of many major reasons. A lot of parents don't find it convenient not to leave their children alone while shopping or dragging them to the store.
"Sometimes the littlest things take up the most room in your heart."

-Winnie the Pooh
Even though parenthood is universal, savvy eCommerce retailers interested in finding new products to sell can still take advantage of this. The online sales of baby care products are one of the biggest revenue generators. There are a lot of products sold online, including soap, powder, cream, oil, linen, and diapers.
Start Online Home Decor For Homeowners
Online shopping for home decor is a popular choice for many Indians. The beautiful home decor of a home is something everyone looks forward to. One of the main goals of this is to make your home look visually pleasing.
"As we evolve, our homes should too."

-Suzanne Tucker
Since the development of more modern and beautiful furniture designs, there have been more innovations in design and decor. Innovations like these have increased public interest in online marketplaces where these items are available.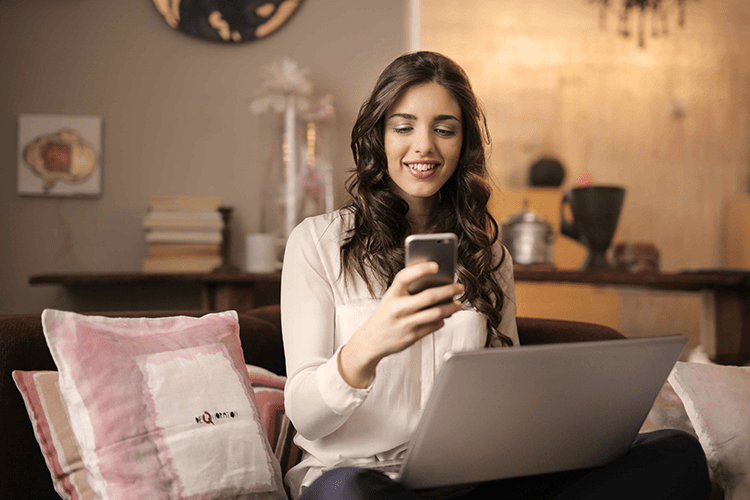 How Builderfly Can Help?
India's e-commerce business is flourishing, and more and more commodities are being added every day. It's the perfect time to target a niche audience as the list of products keeps growing.
Create your online store quickly with Builderfly. We help you list unlimited products in your online store and sell them on multiple marketplaces like Facebook, Amazon, Google. Also, our centrally managed management system allows you to operate your store in real-time.
We hope that you can gather ideas from this list of popular online products and start an online business quickly!
Register to Sell More with Builderfly
FAQs
How can I improve my profit margins?
You can start selling online with Builderfly for free and save on the additional expenses that you otherwise make on infrastructure. Selling with almost negligible commissions helps you improve your profit margins.
What point do you consider selling products in demand?
Using Google trends you can check the timeline for which the products you are considering have been in demand. If you choose the most demanded products of the current time, you may end up investing a lot on inventory that will be stuck later. That's why we suggest you plan your inventory wisely, understanding your store's performance with Builderfly Analytics.
How can I make my e-store profitable?
Using Builderfly's robust marketing and growth features you can strategically market your business, sell on multiple sales channels and manage centrally to make more sales and earn profits.
Is there any restriction for the product categories that I sell on my online store?
No, you can choose your product niche and products you want to add to your catalog on your own. There ain't any product category restriction.
Can I sell globally with Builderfly?
Yes, you can serve your global customers with Builderfly regardless of your business's location. Also, you can sell in multiple locations from your same online store and mobile app along with other sales channels and grow your business to a brand.