In our previous blogs, we gave you insights about getting innovative product ideas and tactics of product sourcing to keep your business running without any hassles.
Now that you have the products in your warehouse, you want to sell them straight away.
We know that you are excited to build your ecommerce store, but it will take some time. You don't want to make your inventory stay in the warehouse by the time you make your store, ready-to-launch. Maybe the trend of today will not stay long, and some of your products will be nothing more than thrash.
It sounds harsh, but that's the truth!
The online marketplaces can resolve your problem now. If you are a registered business, you can start selling by merely creating your account on these marketplaces. In this way, you can earn money and walk with the trends. Launching your business with marketplaces will surely bring a lot of learning for you.
Let us tell you more about it.
What are online marketplaces?
The online marketplaces can help you start selling, even without creating your store. Consider the marketplace as a mediator between a business and a customer. You can register on these marketplaces, list your catalog, and start getting orders.
On these marketplaces, there are several other businesses like yours. Since the marketplaces already have a user-base, your task of bringing in customers will be eliminated. But, your challenge will be, promotion of your products and services in the market full of competition.
The type of businesses registered on these online marketplaces depends upon the adapted architecture:
Vertical marketplace: The similar products will be sold from different businesses
Horizontal marketplace: Various sellers can sell different products offered with similar characteristics.
Global marketplaces: They allow the listing of products in all the categories from suppliers across the globe.
Hybrid marketplace: The marketplace owner will be selling one's products and enable other businesses to sell as well.
Benefits of Selling on Online Marketplaces
The reliability of the online marketplace to start a business is growing because of below-listed factors:
Lesser launch time: Sign-up on the ecommerce store, upload your catalog and start selling in the market full of masses. You need not make efforts to drive traffic, design your store.Update your catalog and start concentrating on the marketing efforts. By saving your time on all other tasks, it can be easier for you to get sales to your store. Getting the first customers always brings happiness, and you can amplify this process more strategically.
Leverage the power of a brand: It's tough to gain the trust of customers. However, if you are selling with promising brands, it will be easier for you to improve your market reach. Since you are selling on the trusted marketplace, it will be easier for you to gain traction in the market when you are selling on your store.
Established customer base: The ecommerce marketplaces like Amazon, eBay, Flipkart have exisitng user base of crores of people. By opening your store on these platforms, you start marketing your products to the masses. The users that are exploring the products to purchase are more comfortable to convert, as compared to the individuals that are simply exploring the web.
Customer assistance: While you are selling your products on the marketplaces, you don't have to worry about the concerns of your customers. So, you can provide a more promising experience to your customers, without hiring a distinct team of your own. You can save on the cost of adding a customer support team and will be answerable to the major customer issues only.
Top 5 Online Marketplaces to Start Selling Now
As per the research by Internet Retailer, 35 of the current top 75 online marketplaces launched between 2010 and 2015, including physical stores that went online.
With the help of these stats, you can estimate that there are thousands of online marketplace businesses at present. The business model of these marketplaces will be more or less the same, but, reliability of business increases with the time.
If you are selling with any other business in the market, it can be tricky to build the trust of customers. However, registering yourself with the below-listed brands can be a lot more helpful for your business.
●    Amazon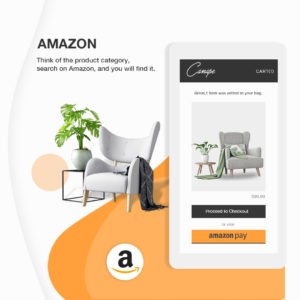 Amazon is an ecommerce giant based on the hybrid model. Though it started its journey back in 1994 as a bookstore, now, it covers almost every business niche. It is one of the largest online marketplaces in the US. Currently, Amazon is serving across the globe.
Think of the product category, search on Amazon, and you will find it. You can register as an individual and create a professional seller account as well. With the help of the professional seller panel, you can acquire the benefits of Amazon's FBA services, grow with MWS, sell across multiple countries, and explore the scope in B2B business.
If you need expert assistance for services like photography, accounting, cataloging, taxation, marketing, and so on, you can access the reliable businesses registered with Amazon to help you with these services. Professional sellers registered as a brand can create a microsite on Amazon and grow their business as a brand.
●    eBay
eBay is the C2C and B2C ecommerce marketplace that's now growing in the dimension of the B2B market as well. The ease of registering as a user and selling across the marketplace is one of the vital reasons behind choosing eBay.
The immediate access to 149 million buyers is not a small deal. To get the global reach of your business, you can register to get access to your seller account on eBay.
eBay allows listing custom product categories, thus, improving the chances for manufacturers. You will get a link to your micro store, where all your products will be displayed. It will turn easier for you to share and promote your business.
●    Etsy
Etsy is a US-based ecommerce marketplace, with an estimate of 1.93 billion of merchandise in 2014. If you are a manufacturer of handmade products or resellers of vintage products, you must register yourself on Etsy.
You can start listing your products on Etsy, as soon as you register. You will be charged a listing fee of a few cents only. For those of you starting your business as a manufacturer, it's good to grab. The commission charges ain't too much, and you will get an excellent opportunity to grow with the community.
By connecting with the community of artisans, you will be able to explore more innovative ideas and learn different art forms. You can diversify your knowledge and promote your products. The approach of cross-culture selling can be adapted by you more easily.
From the backend of your Etsy store, you can update HTML/CSS settings of your store. You can create the policy pages, shipping labels, update banking and shipping details, as well as advertise and promote your products via social sharing.
●    Alibaba & AliExpress
Alibaba empowers you with a global reach and enables you to make your identity in the B2B market. When Alibaba allows you to market products in the B2B market, AliExpress lets you sell products in the B2C market. Alibaba.com enables you to sell in the B2B market for free. For business deals, you won't be charged any commission or transaction fees.
B2B is known to be a lot more powerful over B2C because of the higher conversion value. Also, you will be able to add more loyal customers to your business. AliExpress charges the commission fees for selling platforms online. When selling on Aliexpress, there is no set quantity of products to be ordered, but you can add such options to target customers of the B2B market.
You can sell custom-made products on AliExpress as well as Alibaba by updating the settings of product listing of customized products. The personal touch in the products can be a lot helpful for any business to entice customers.
●    Rauketan
Everyone calls Rauketan the Amazon of Japan. Though the journey started with Japan, now, it is capable of serving more than 29 countries, including, US. The active customer base of 105 million members, Rauketan is allowing the sellers to sell all categories of products online.
Since Rauketan is based on a global marketplace model, it doesn't sell any products of its own. Thus, reducing the competition for other sellers and giving them fair opportunities for growth.
If you are dealing with technology-based products or something innovative which has growth opportunities in Japan, you must register yourself. You will be liable to pay monthly fees of $33 and a subsidiary commission charged only on selling. However, the seller loyalty program can be value-adding for your business.
Conclusion
The online marketplaces guard sellers as well as customers against online frauds and ease the experience of business conduction. Since numerous registered businesses are selling similar products, the competition is strong. The marketplace model lets you discover more business opportunities.
To increase the profitability of your business, you must build ecommerce store as well. Register yourself with Builderfly to create your store, while you are selling online on the ecommerce marketplaces. Later, you can link your existing sales channels to your Builderfly store. For more details, visit us now!