As an online store owner, you are in charge of the store's look, set up, products, images, content, and much more. All these aspects are important to grab your potential customers' attention. However, most often, many online sellers, probably you as well, would have overlooked the aspect of shipping options. Let us be clear here; for every ecommerce store, shipping option was, is, and shall remain the backbone of your business operations. If you have been in this business for a while, you might know that satisfying your customers is the crux to selling online, irrespective of the type of business you are in. And, in order to satisfy your customers, opting for the ideal shipping methods is imperative.
If you employ a messy shipping method, it can eventually make your customers unhappy and dissatisfied. The faulty shipping process can be anything from delayed deliveries to a lack of tracking facilities, to damaged products, which can potentially make your customers rethink their choice to purchase from your store. Today, with oodles of technological developments, online stores are becoming more advanced. Strategically planned shipping practices can be easily integrated into your ecommerce stores, which will help you in enhancing your relationship with your customers. To create an effective shipping strategy, there should be seamless coordination right from your marketing team to your order fulfillment team and of course many others in between. In this blog, we shall walk you through the absolute ecommerce shipping strategies that both satisfy your customers as well as brings you success.
Best Ecommerce Shipping Strategies for Success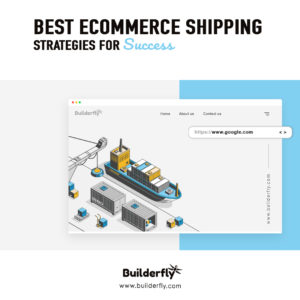 A few large-scale ecommerce businesses have fueled the expectations of customers to get free shipping, always! Now, if you're a business owner, you would know that it is practically senseless. Shipping goods cost money and yes, it always will. Someone has to pay the shipping charges. Well, just because other businesses are always offering free shipping does not mean that you also have to. Your goal is to find the shipping strategies that delight your customers without corroding your profits. If you have just started learning about the shipping methods, know that there are majorly three options:
Variable Rates
Flat Rates
Free Shipping
However, between these options lie many twists and the costs vary from carriers to carriers due to some factors. Therefore, it is essential for you to learn the right strategies to ship your products to your esteemed customers without you running into losses. Below are a few essential strategies, suggested by our professional advisors:
Partner with some Prominent Shipping Service Providers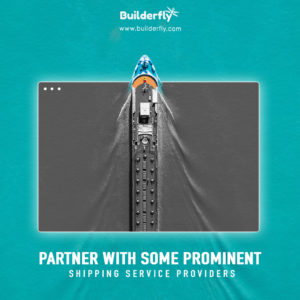 Trying to cut costs on shipping by going for unknown or unproved shipping service providers, can turn out to be your costly mistake, sooner or later. As mentioned earlier, the shipping experience you provide to your customers determines their loyalty towards your store. Therefore, it is imperative to opt for only the leading shipping service providers in your country as well as in other countries (if you ship internationally). Some of the most prominent shipping providers across the globe are UPS, USPS, FedEx, and DHL. If you are creating your store with the Builderfly Ecommerce Platform, one of the leading ecommerce builders, you do not have to worry about integrating different modes of shipping into your store. The platform is already integrated with multiple shipping options. All you have to do is make a few clicks!
Provide Real-Time Shipping Rates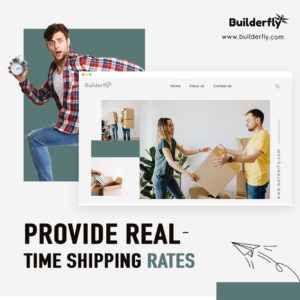 Real-time shipping rates or live rates lets you offer the exact rates of the products after determining the size, weight, distance, etc. When integrating live rates in your ecommerce website, whatever charge you have issued for your products, even the slightest difference in the rates from the shipping providers shall be updated to your site. The real-time shipping charges are synced to your shipping service providers. The benefit of offering this feature is that the customers only pay the charge that is shown to them – no hidden charges; and that, my friend, will shoot up their trust towards your store.  Moreover, your customers will also get the option to choose between the various shipping options that meet their requirements. If you integrate the right shipping method, such as the ones mentioned above, or you use the right ecommerce platform, you no longer will have to calculate the shipping charges for your customers. One of the best benefits of offering real-time shipping rates is that the power of choice remains in your customers' hand, which is appreciated by them, and they'll be willing to pay the shipping charge they choose (Shhh, you do not have to offer free shipping, anymore!).
Give your Personal Brand Touch to the Shipping Packages
When shipping your orders, make sure to personalize them with your brand identity. For instance, you can consider adding a surprise token of love, or a simple thanking note can greatly impact customer loyalty to your store. Shipping products is something done by millions of other businesses in the world. Therefore, if you wish to get your competitive advantage and stay unique from the rest, you must personalize your products before shipping them. For instance, many brands offer personalized stuff along with their products, such as Bewakoof.com, Clovia Fashion, and many more.
Conclusion
Implementing the above-mentioned tried and tested ecommerce shipping strategies may take you a few months based on the type of products your sell and how often are your customers purchasing from you. Improving your ecommerce shipping methods can help you attain success by boosting your sales, enhancing your customer conversion rates, and increasing your average order value. Also, do not forget to check this all in one solution to create your stunning online store with the advantage of getting to create a free iOS and Android mobile app. Moreover, you have an exclusive offer to start selling online with the free Starter plan wherein you get to connect your already existing domain, add your products, and simply start selling online. With every milestone of your business growth, the best e-commerce platform offers multiple subscription plans, and yes, a variety of leading shipping options!