How Can Builderfly Help You To Achieve Your Ecommerce Objectives?
With Builderfly, you can deliver a personalized journey to your customers, reduce management costs, build business relationships, and much more by owning your eCommerce store. Check out the possibilities an online eCommerce store on Builderfly can offer
Manage Online Selling Costs In A Strategic Way
When you start selling online, the investment cost of starting and operating a business goes down. However, with Builderfly, you can begin your business absolutely free at zero cost investment. By establishing an eCommerce store, you literally need no physical presence of your store and save on several fixed expenses – rent, hiring, stock maintenance, and more. To manage your eCommerce business effectively, all you need is Builderfly's one-stop management dashboard that will allow you to do so. And by having Builderfly in your corner, you get to start an eCommerce store with zero investment. And you get access to several in-house tools to run your marketing campaigns and grow your business online. Get started with Builderfly and increase traffic to your online store for free!
Establish Deeper Business Relationships
Why stay limited to customers coming to your shop from just one location or a city? Build an eCommerce store with Builderfly to maximize your reach, multiply your business relations to any part of the world, and engage with every user online. At Builderfly, we help you constantly be in touch with your customers through your eCommerce store, social media, and more. With constant communication, you can deepen your relationship with your customer and enhance your brand's credibility. So boost your relationship, expand your market, and sell more build your online store with Builderfly!
Provide a Unique Customer Experience
Your eCommerce store offers the same level of service to customers as you do to consumers visiting your physical store. However, by using Builderfly, you can customize a unique experience for your customers and stand out from the crowd. As a seller with Builderfly, you must enhance your customer's experience by appealing to their tastes and preferences. Round-the-clock customer service, immediate response to your customer's queries, and providing engaging content to your customers win the deal for you. Builderfly can help you do all this and more!
Improve Customer Loyalty
Every business strategy revolves around customers. With Builderfly, you can make your consumers your focus point and interact with them to give them an incredible experience. This allows you to manage your loyal customers and generate new leads for your business. Ready to build your brand credibility to sell more and earn more?
Refine Service Efficiency
Builderfly's eCommerce store can help you automate most of your services and save time updating the status of your sold goods, creating invoices, and more. A customized eCommerce platform not only helps you to sell your goods but offers better services to your audiences like fast delivery, quick check-outs, better product information, and more. Builderfly will help you update your efficiency through chat support, deliver goods faster to your clients, and create a robust online presence.
Identify The Right Target Audience
An eCommerce store in Builderfly will help you target an audience that is genuinely interested in buying your products. But how will you know that? You can learn different parameters like age, gender, income, and more by analyzing your audience. With the help of these demographics, build your consumer persona and target customer groups that are relevant to your products. This data will also help you with future product launches and establishing a long-term marketing plan. For this, choose Builderfly to access the right tools and do more with your online business.
Make your eCommerce Website Mobile Responsive
Want to rank your eCommerce store on Google and showcase your product to a global audience? Now you can build a responsive eCommerce store with Builderfly to present your products more appealingly to attract your customers on both desktop and mobile. A mobile-friendly website will help you earn more traffic to your site. You must opt-in for marketing strategies and tactics that can help you grow your business and set you apart from your competition. Choose Builderfly to help you create a responsive eCommerce store or a native mobile app to grow your business and optimize it. So, maximize sales and revenue with a website compatible with all devices and a perfect fit for all screen sizes.
Sell More
The only objective for you to move your business online or start your business online is to reach more people. To thrive in the eCommerce industry, you need to upscale your business and increase your ROI. But, to do so, you need to adopt market strategies that have worked well for you! Design your marketing plan to boost your growth, increase your sales and generate more leads for your business in just a few clicks. With Builderfly's integrating marketing tactics and innovative solutions, grab the attention of your customers and make them enter your sales funnel.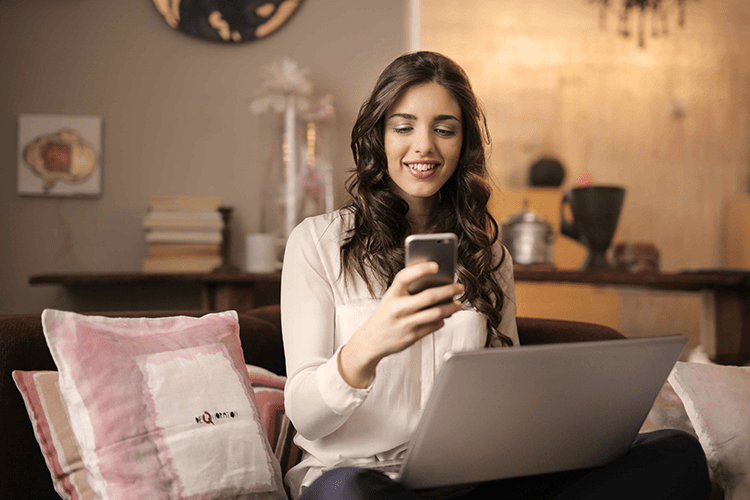 Launch Your eCommerce Store With Builderfly!
Build your business with Builderfly and choose the right eCommerce solution to expand your online business. At Builderfly, you get a complete eCommerce solution that helps you build a stunning eCommerce store for your business. Our service will help you market and sell your products globally.
Ready to make the shift? Try Builderfly For Free!
Create Your eCommerce store for FREE
FAQs
In what ways does e-commerce serve its goals and functions?
The primary goal of e-commerce is to reach maximum customers at the right time to increase sales and profitability of the business. Functions of e-commerce include buying and selling goods, transmitting funds or data over the internet.
What are the 5 steps to get you started with your E-Business?
Follow the below steps at Builderfly and start your eCommerce business in 5 minutes:
Step 1: Sign up
Step 2: Customize your store
Step 3: Add a list of your products
Step 4: Add secure payment gateways
Step 5: Start selling online
Is an eCommerce store worth it?
Absolutely. Having an eCommerce store will boost your business's visibility and attract more customers. As a result, you will be able to sell more products and increase your profits. The best part is that you can set up an eCommerce store for free with Builderfly. Start today.
How can I start selling online?
It's easy. You simply need to conduct research, select the right products to sell, and set up an online store to start selling online. With Builderfly, starting an online store is free!
How can Builderfly help start an eCommerce store?
Builderfly is an e-commerce platform that provides business owners to set up an e-commerce store to help them buy and sell products online. To ease up the burden, selling on Builderfly is free. No hidden charges.