Earlier, sales-persons were the only people closing deals for selling of goods or services. Well, gone are those days. Today, everything is automated and so is the ecommerce market. There are hardly any salespeople or sales manager to close deals. With cross-selling and up-selling, the online sellers can now make sales and boost revenue themselves. If you belong to the traditional commerce industry, you might have surely come across the terms – cross-selling and up-selling. However, these are the terms that are most-commonly confused among each other. Many still believe that both are the same. However, both are entirely different business strategies in the ecommerce industry. In this blog, we will be talking about what cross-selling and up-selling in ecommerce is and how they work. Let us first start with defining both the business strategies:
Cross-Selling: A marketing strategy that is used to convince customers to purchase products that can complement the ones they are already planning to purchase. For instance, if you are purchasing a mobile phone, you may see complementary products such as mobile cases, screen guards, and so on in the shopping cart or the checkout page.
Up-Selling: A marketing strategy that motivates customers to consider purchasing a more expensive product than the one they shortlisted to purchase. For instance, if you are purchasing a headphone worth Rs 5000, you might be shown with better brands that offer more considerable features with an increased and acceptable price tag.
Cross-selling and up-selling are marketing strategies that help sellers generate more revenue from their existing customers. Studies have proven that the charges incurred to acquire new customers in an ecommerce store are 5-25 times more than that required for boosting revenue with the existing customers. Moreover, when you use smart marketing strategies such as cross-selling and up-selling in the right way, the chances of them willingly spending more on purchasing products from you are doubled – provided your products and services are meeting the standards of their requirements. Another research found that the likeliness of selling to an existing customer is 60% to 70%, which is otherwise 5% to 20% when it comes to convincing new customers. Thoughtful pursuance of cross-selling and up-selling will not only help in boosting the ecommerce sales but also strengthens your relationship with your customers when your suggestions and upgrades provide them with a valuable service. So, if your ecommerce business has not yet utilized the power of upselling and cross-selling, you are simply leaving money on the table.
What is Cross-Selling and how does it work?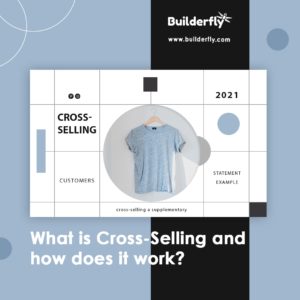 Would you like to pair your formal shirt with this classy tie?
The above statement is an example of an online seller attempting to cross-sell to a customer who is planning to purchase a formal shirt. Cross-selling is a strategy that encourages customers already planning to purchase to buy additional products that supplement the primary product. So, as per the above given example, if your primary product is a formal shirt, and your seller asked you if you would like to purchase a tie to accompany your formal look, that seller would be cross-selling a supplementary product to you along with your original purchase. To provide another example; offering a customer with a speaker that can perfectly complement their choice of desktop that they are proceeding to purchase shall not be considered something like an upgrade or an add-on. At some point or the other, the customer shall need a speaker for a better experience in using their computer, which makes the suggestion a perfect cross-selling attempt.
Cross-selling identifies the right products that can satisfy the complementary requirements that are not being fulfilled by the original choice of products. Generally, cross-selling points customers to the products they would have anyways purchased at the right time. By doing so, the seller is ensuring a sale. In fact, cross-selling is a marketing strategy that exists and is utilized completely in all kinds of commerce including banks. For instance, at some point in time, you might have received a call from the bank in which you have a savings account, asking whether you would like to purchase a credit card, haven't you? That is exactly what cross-selling is. When it comes to an ecommerce business, cross-selling is mostly employed on the product a page during the customer is checking out from their shopping cart. It is considered to be one of the most effective ways to generate repetitive purchases from the already existing customers by showcasing them the wide range of products in the store's product catalogue.
What is Up-Selling and how does it work?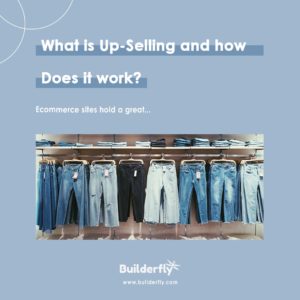 Compare your product with this similar product (which is usually expensive than the original choice of product)
If you have been using common online selling marketplaces, you might have surely come across anything similar to the example given above. That's up-selling. While cross-selling is a strategy that involves offering complementary products, up-selling is a marketing strategy that involves showcasing another premium or upgraded product to the already selected one with more extensive features than the primary product. It will simply encourage the customers to spend more than the amount they would have otherwise spent on purchasing certain products from a particular ecommerce store. Suggesting the purchase of a key holder with a keychain, a hair straightener with a comb, a blazer with a trouser, are a few examples of up-selling. In simple words, up-selling is a process to upgrade a purchase by suggesting more expensive products instead of the primary selection. You might not be surprised to hear that up-selling is more effective than cross-selling. Well, think about it, isn't it easier to sell an upgraded product to the customers than suggesting them to purchase some additional products that can potentially complement their choice of products? Well, from the shoes of a customer, we would love getting an upgraded product instead of adding some products to our shopping carts.
As mentioned earlier, up-selling often involves the use of comparison charts to showcase the differences in the features of the products they chose to purchase and an upgraded version of the same product with better quality (and of course higher price tag)! The suggested products must fulfill the basic requirements of the customers while increasing the Average Order Value and providing better customer satisfaction. Companies that have learnt the art of up-selling have successfully been able to deliver the value of upgrading the choice of products to their customers. Both, cross-selling and up-selling work with the same principle – adding value to the products intended to be purchase by their already existing customers. Both the marketing strategy helps the customers know about the additional products that they might not know is available in the online store, helping them not bound to the limitations of the products they encountered in the store. The basics of both strategies include understanding the requirements and interests of the customers and catering to meet those by suggesting the right products at the right time.
Tips to Cross-Sell and Up-Sell in your Ecommerce Store
Cross-selling and up-selling are best used at the Point-Of-Sale (POS) with the customers, which means, the product pages in the checkout process. Moreover, in the case of cross-selling, the suggested products can be showcased soon after a customer has purchased a product, which can encourage them to upgrade their already purchased products at the earliest. Here are a few tips from our end to help you use these best marketing strategies at the right time:
Know your Audience
As an online seller, you might have already known the importance of understanding the customers buying interests. However, along with knowing the interests of your customers, it is extremely important that you understand your customers, especially after they have already purchased products from your store. Understand your customers' goals and challenges through mediums such as customer feedback, in order to understand what exactly the apt cross-selling and up-selling products are, that you can offer.
Outline your customers' journey in order to understand how they are going to utilize your products and how those products are helping them grow. When customers get to a point where they love your products and services, they are probably sharing their experiences with their friends and relatives. At that very point of the customer journey, you must consider employing these strategies i.e. cross-selling and up-selling as they are now willing to spend more money on the products you sell.
Offer Product Solutions to Problems in Customer Requirements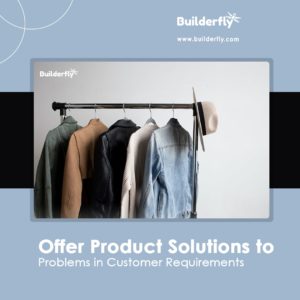 Before trying to cross-sell or up-sell to your customers, try understanding the problems in the product requirements your customers have selected. By doing so, you will be able to map the challenges faced by your customers and have a clear idea of which products you sell can solve those problems.
Whether you have freshly stepped onto the ecommerce industry or you are an experienced online seller, employing cross-selling and up-selling can highly benefit your business by shooting up your sales, boosting business revenue, and lastly, building strong customer bond for a really long period.