To all those dreamers and business enthusiasts out there, the good news is, setting up an online business is a way too easy now!
All thanks to technology!
Earlier, if you wanted to set up an ecommerce store, you couldn't do it without the help of technology geeks and expert web development companies. It uses to be more cumbersome for your pockets as well. But, now, we have the website builder tools as well as ecommerce platforms that can help you design, launch, and manage your ecommerce store on your own.
Even if you are a newbie or ecommerce geek, our guide will brief you with the procedure to begin your online business and launch your shopping site.
Perform the market research
Decide your business niche
Select your products
Name your business & register it
Design your store
Start promotions
Let us take you each of these steps in a sequential way:
Perform market research & decide your target industry:
Market research is the first and foremost requirement for any business. If you know about a high-demand sector in your mind, that's good. If not, it's the time to perform market research and make a list of industry options that you like to consider. Don't just plan in the air; look into the stats to get the proof.
While performing the market research, you need to think about the market opportunity as well as an investment that you need to make.
Decide your target audience
Once you decide your business niche, think about the target audience. Start with creating buyer personas for your business. The buyer personas are the ideal customers who would like to purchase products from your store. You can have as many buyer personas as you possible.
The competitor analysis can help you with creating buyer personas. Also, the sources that your competitors are using to interact can be helpful for you in knowing your business demographics. Knowing your target audience is a lot more useful for you to select the products as well as create the marketing strategies.
Select your products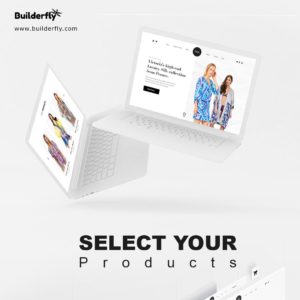 Finding the products to sell will not be a tough job, once you know your target industry. Try searching for products in best-sellers on existing ecommerce sites like Amazon, eBay, Alibaba, and so on. By using these platforms, you can make the list of products that you can add to your inventory.
Social media platforms can help you in gathering social proofs for best-selling and more profitable products. If you are already selling on the marketplaces, you better not choose the products of a lower profit margin. Since the marketplaces charge commission rates, you will end up getting lesser amounts on your B2C orders.
While selling your online store, you can list the products of higher as well as lower profit margins. Don't run behind increasing the count of products to your store, rather concentrate on offering variants of the products you are already selling.
Name your business & register it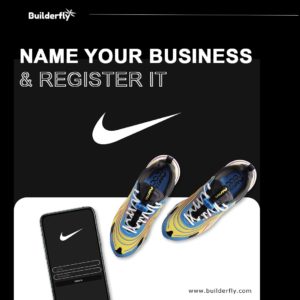 It's the time to perform "Namkaran Sanskar" for your business. You can have a brainstorming session with your team if you are launching your business as a team. If you are planning to run your business as a sole proprietor, you can connect with your friends and family and create a list of all possible names for your business.
You can have a different name for your business and that for the domain of your ecommerce site. But, to avoid confusion, it's better to go with a single name. While listing the names for your e-store, keep these things in mind:
Think of a brand-able name
You can name your store based on the type/category of products you are planning to sell.
Don't choose a critical name, that's hard to pronounce.
Try to find something unique and creative.
Don't add numbers or special symbols in the brand name.
Don't make it a combination of 2-3 words.
Now, make two categories of the names, primary and secondary, based on your priority. Check all those names one-by-one for the domain. You can try searching on Godaddy, NameCheap.com, Hostgator, and several other domain & web hosting sites, to select a domain. If you use a keyword or product name as a brand name, there are lower chances of not getting the domain available. However, those brand names have better values from the viewpoint of marketing. If you find the available domain name listed, purchase it immediately.
If you are selling in some specific product categories that require business registration, you should get your business registered with the local authorities. To run your online store, tax registration is a must. To avoid any issues at a later time, complete your registration beforehand.
Design your store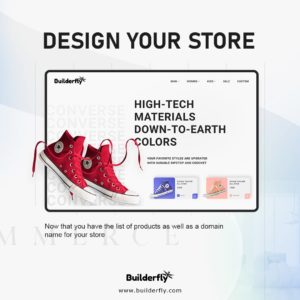 Now that you have the list of products as well as a domain name for your store, your next task is to design your online store. The easiest way to create online store is, choose an ecommerce platform or online store builder. One such popular ecommerce platform is Builderfly, to create your store, follow the steps below:
Register your store with Builderfly: Sign up on Builderfly with your email address. You will be given free access to a variety of ecommerce features for free within your trial period of 14 days. You will be asked for some necessary details to complete your business profile.
Select a theme for your store: When you will register your business, you will get a fully functional store ready for you with a default theme. If you want to select a niche-specific theme for your store, you can choose the theme of the Builderfly theme store and can select the theme that best tells the story of your business. Later, you can customize the theme of your store at its fullest. We have ready-to-implement templates available for different sections of your store; with the help of these, you can customize the layout of your web pages as per your choice.
Update your catalog: Since you have a fully functional theme, you already have few products listed in your store.You will definitely adore it more when you see your products listed on your ecommerce store. To do so, follow the catalog section and create a new listing for your products. You can replace the existing product listing as well.To feed the requirement of more extensive inventory, you can bulk list your products via import/export product options. To improve your product detail pages, offer as much detail as you can. You can update on-page SEO fields for your product detail pages, thus, making them more appealing to please your customers. Professionally clicked product images also have a good effect on customers, remember it.
Complete required web pages: The static pages of your ecommerce store are as important as the product listing pages. Follow the "Customize your store" section and replace the content of those web pages to that of your business. It includes About Us, policy pages, terms of service section, 404 pages, and contact page.
Update general store settings: Before turning your store live, you need to check and update the general settings. It involves checking the payment gateway, shipping partner API, shipping rates offered, tax ID and tax rate applied, shipping and billing addresses as well as business information.In the meantime, you must audit your store to check the requirement of updates, if any. Also, optimize the SEO of your store and connect your domain to launch your store. As soon as you launch your store, place test orders.
Start promotions
Once you make your ecommerce store live, you need to start promotions. Your primary goal is to generate brand awareness, be it via organic options or with the paid ways. If you are selling products on the existing ecommerce channels, you can create the internal campaigns for product promotion as well as catalog promotion distinctly.
To improve organic reach, you rely on social media platforms and community forums. Also, you can update on-page SEO of your store and opt for content marketing to improve the reach of your business. You can hire a team of marketing experts to hijack the growth of your ecommerce store.
The end goal of marketing your ecommerce store defines the ultimate benefit of conversion. There are several paid promotional options like Google Ads, Adsense, social media campaigns, marketing tactics like email marketing, to improve the reach of your business via paid mediums. You can try all the tricks and tactics to improve the conversion rate and optimize customer retention for your business.
We believe this is enough to get you started. It's time to create your ecommerce store! Register now to begin your journey.