eCommerce framework is the software to make eCommerce applications and manage the online store business. This software is also referred to widely as eCommerce platforms. eCommerce is a lucrative industry and constantly growing at a good rate. The scope is vast. The eCommerce platforms are meant to ease the process of establishing an eCommerce business and managing them with the highest level of growth. Some of the frameworks are do-it-yourself platforms. Retailers do not require to possess programming or designing skills or even any prior experience with such a framework. These frameworks are mostly drag-and-drop, fill forms, and click on buttons based.
The eCommerce platforms had a revenue share of 5.1 billion US dollars in 2018 and the forecast suggests a market value of 6.3 billion US dollars in 2023, as per Statista. The market share of leading platforms can suggest the best framework for whatsoever reason. This data mirror the success in market penetration and which matters. Later we can dig, what is good in this and what is good in that. Though this too matters as per the personalized business requirement.
As per the data collected till April 2020, WooCommerce is still leading the chart with a 28.24% market share of the world. No other platforms are nearly competing with it. The distance second position in the market share chart of eCommerce software is captured by Squarespace, with a market share of 17.69%. Somehow the higher market share of WooCommerce is connected with the fact that it is a plugin of popular website builder WordPress. Have a look at the market share of leading platforms below.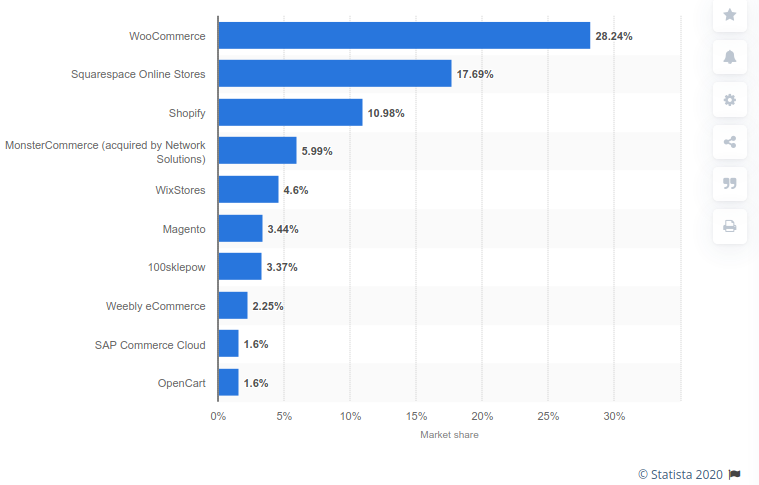 Let's get an in-depth overview of leading eCommerce software:
1. WooCommerce
WooCommerce is an open-source eCommerce framework based on PHP programming language. It is a plugin of WordPress CMS. The ease-of-use has made it popular among the masses in a shorter period. WooCommerce was launched in 2011 and since then it has never looked back in terms of market penetration. WordPress is being already a popular CMS among developers across the globe, WooCommerce had not to struggle for a trial from developers.
While the good part of the framework is simplicity, the major drawback associated with it is, it can be used by developers or programmers and designers only. Without a technical skill of programming or designing, one should not dream to have an eCommerce website using WooCommerce.
2. Squarespace
Squarespace is one of the oldest eCommerce software, started way back in the year 2004. It has a subscription-based model to create online stores. It provides drag-and-drop based software-as-a-service. It offers users to choose a template and modify it as per the business requirement. This is a hosted platform, users don't need to host their files on a server. The platform takes care of the hosting and pricing is already included in the subscription fee. This is unlike WooCommerce, where a separate hosting server required to launch the website.
It doesn't require having coding or designing skills to create a website using the Squarespace platform. It offers some marketing tools for retailers like email marketing. Though it is very limited. It doesn't offer an online store mobile app to the users, which has become a necessity in the eCommerce business nowadays.
Following are the challenger upcoming top eCommerce platforms
1. Builderfly
Builderfly is a cloud-based eCommerce platform offering online stores for web and mobile devices. It is a hosted platform like Squarespace explained above. It is a do-it-yourself online software-as-a-service that doesn't require a designer or programmer skills to use. Besides the website builder and mobile app builder, it offers extensive marketing and management tools.
The differentiating parts of the platform are,
Ease-of-use
Flexible customization
Offers native iOS & Android mobile apps for the store
Online marketplaces integration
Includes 100% free plan to use the platform
There are many other features to mention which make Builderfly a challenger to the current popular eCommerce software.
There could be other approaches to reach a conclusion on the best platform. The features and facilities provided by each and every popular platform could be compared. This could have a lengthier and hectic method to conclude. In this way, the winner could be a lesser-known platform even. The above comparison based on the market share looked good and fair.