What is the current state of family businesses and future plans?
Before understanding the reasons to start, let's first have a look at the challenges faced by family businesses. Recently a survey was organized, in which, family businesses were asked about their plans for going online, and reasons that refrain them.
Let's take a sneak peek at the numbers and start by understanding the challenges faced by family businesses while running an offline business.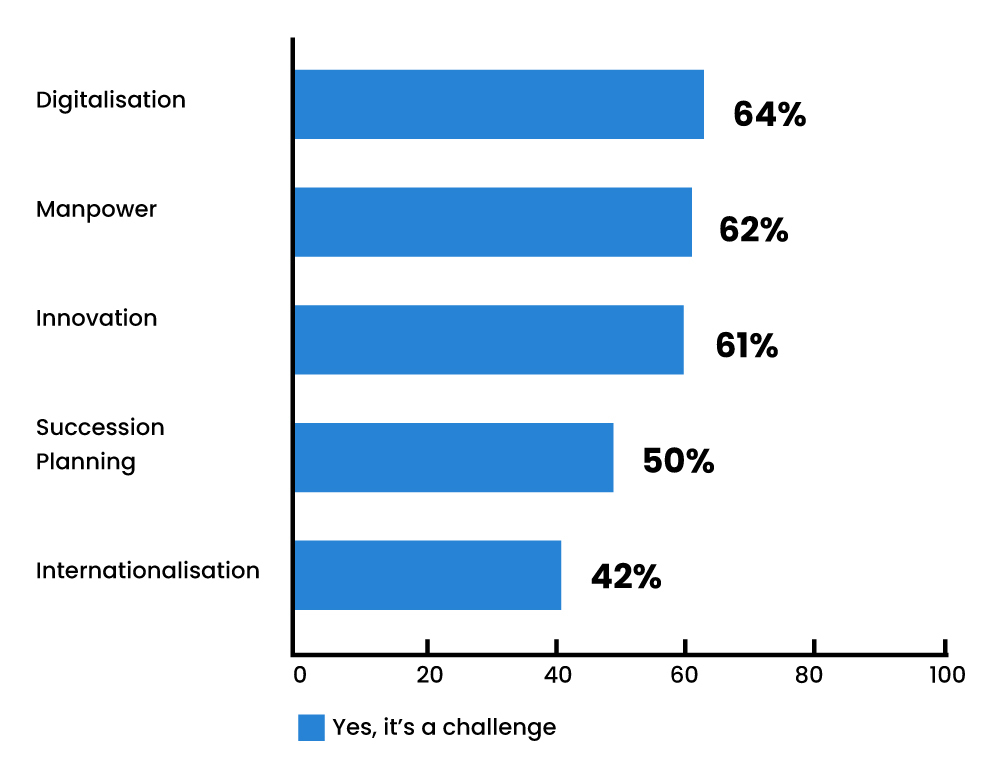 As it can be seen in the chart above, Digitalisation came as the biggest challenge for family-run businesses. This was followed by Manpower and innovation. However, if we take a closer look at the respondent's and mentioned concerns, each of them can be solved with an online store.
All that's required is to have the right eCommerce platform that can help manage all these. Having said this, the second thing we should focus on is what are their views of these respondents about taking the step towards digitalization.
As can be seen in the chart above, 48% of family businesses have already digitalized themselves. However, 27% are yet to implement, and 25% have no plans. While with an outer picture, those who have adopted online commerce, might seem high to you, I'm looking at 52% that are yet to implement, and out of them, 25% have no plans.
In the report, when further asked about reasons for not adopting technology, the reply came followed by the answer as to why going online is important for them. Let's have a look:
Take your Business Online
56% of respondents said their business is too small to adopt eCommerce
Answer: eCommerce is for everyone. From an independent seller to an established brand. Everyone can grow sales.
32% of respondents said they have more important day-to-day things to do
Answer: Well, with an online store you grow revenue, increase sales, and enhance your presence. As an entrepreneur, nothing can be more important than growing a business (until it's really personal).
24% of respondents said their existing (traditional and physical store) can meet future needs
Answer: eCommerce has developed as a need. Experts believe that in the coming days, online commerce will surpass the physical retail business. Having said this, you need to have a parallel innovative approach to meet modern times.
12% of respondents said they aren't sure if going online will compensate for the costs involved
Answer: The good news is that you can start your online store at zero cost. Selling online is no longer rocket science and has no hidden compliances to meet the benchmarks. So basically, you will have to spend a minimal amount to promote your products, that's it.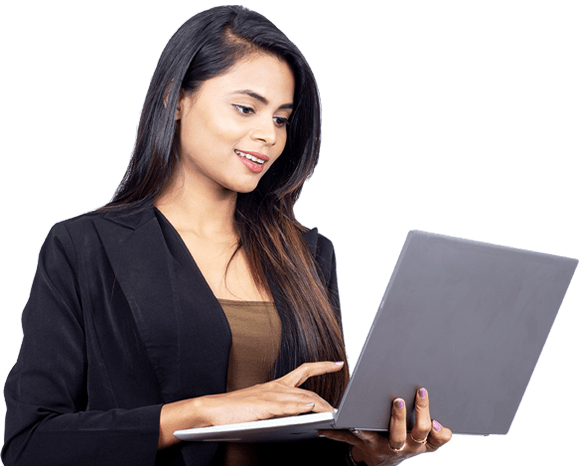 Why should you take your family business online?
There's so much attached to a family business. Years of reputation, dedicated customers, values, and much more. We understand making any sudden change to it may impact any of these. But don't you think, by taking it online you can add stars to its reputation and value. Think about taking years of legacy in front of a larger audience. And that too at the time when starting an online store isn't just a choice, instead, it has become a necessity.
Wondering what can you achieve by taking your business online? Well, in a nutshell, an online store can address all the concerns that were mentioned in our first chart. However, let's dig deeper and understand the benefits of taking a family business online.
Increased profits
By going online, you get to reach a wider audience. Besides, they can buy anytime and from anywhere across the globe. The increased audience and liberty to buy at own self eventually benefits your business with increased sales.
Also, there isn't any maintenance cost involved or if it is, it's negligible compared to your physical outlet. With increased sales and negligible cost of maintenance, you can increase your profit margin.
Better management
We presume that you are already using digital tools related to accounting and inventory management. If not, the traditional methods would be consuming a lot of time and effort. Besides they are prone to human errors.
While currently, you'd be using different tools, by going online, you can run and manage your business through a unified portal. Also, you can stay updated on a real-time basis with sales and inventory in hand. This will again save you a lot of time and effort.
Seamless marketing
Marketing today has transformed into the digital world. Platforms like Facebook, Instagram, Google, etc play an invincible role in promoting your products. Now that you promote yourself on these platforms digitally, there should be a digital address where your buyers can land and make a purchase.
Having an online store serves a huge purpose in this case. Also, you can enhance your marketing through actionable strategies. You can also customize them by defining your target audience, their geographical location, age, sex, etc. Eventually, you can track the performance and make better decisions for future strategies.
Showcase product portfolio
Irrespective of the industry you are in and the product range you have, with an online store, you can have an easily accessible product portfolio for your customers. They can visit it anytime and scroll through the entire range with ease.
Not just this, they can also make a purchase. You just need to ensure that there's sufficient information related to your product. Numerous startups and independent sellers have noticed commendable results after making their first online presence.
Mobility
Taking your family business can make it entirely mobile; for you and your buyers. While they can make a purchase anytime and from anywhere across the globe, you can manage and track your store in the same manner.
To further add ease to it, you can have a mobile app for your business. Market experts believe that by having a mobile app for your business, you can exponentially grow your reach, sales, and profit.
Connect & Reap Benefits With Builderfly
Builderfly gives you a platform where you can create your online store free of cost. The platform is housed with multiple tools that can be easily accessed. The tools provide the following benefits:
Customize your store
Design your store
Manage marketing campaigns
Manage stores on other platforms like Amazon, Google, Facebook, etc.
Track sales
Manage inventory
And much more….
These aren't all, there are other benefits of creating an online store with Builderfly. Let's have a look at them:
1-    Go live in five minutes: You can create your free online store with Builderfly and go live in just five minutes. It's easy to create and customize your online store with Builderfly. All you need to do is, provide your preferred business name, email ID, and you are ready to go.
2-    Select from 1000s of themes: There are thousands of themes on Builderfly that you can use to personalize your online store. Scroll through them and find the one that perfectly matches your expectations and your business. It's an easy process.
3-    Sell on multiple platforms: With Builderfly, you won't just be selling and managing your online store, but you'd also be able to manage your stores on marketplaces like Facebook, Amazon, and Google. And you can do it from a single interface. Saving you a lot of time and money.
4-    Keep real-time track: With your Builderfly dashboard, you can keep a real-time track of your store's performance and manage inventory. By having all the important information handy, you can stay assured of not making any wrong business decisions.
5-    Grow your business: When you can do all of this while promoting your brand on multiple platforms but managing them through a single dashboard, you save time, effort, and money. This in turn can be utilized to make profound business decisions that can help you grow your business. Since, by going online, you have already made it a brand, it's time to multifold the profits.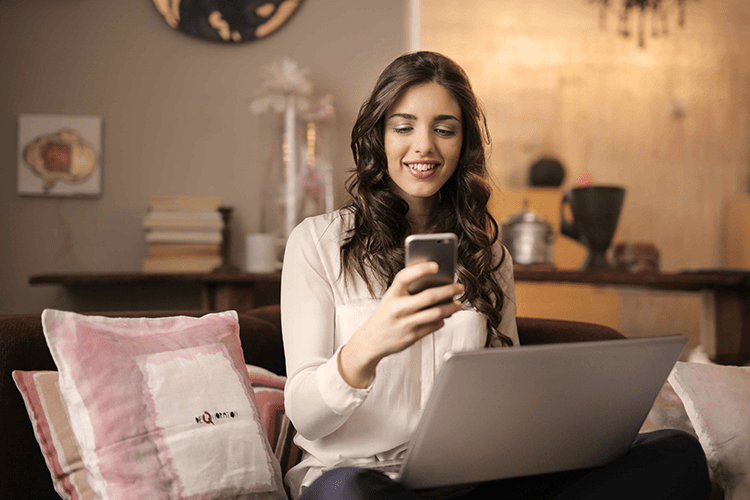 Sell 24 /7 /365 Globally for Free
If the points above seem convincing, it's time you should give Builderfly a try. Simply click on register, enter your details, and get going. Starting your online store has never been this easy. Besides these, the multiple tools further help you manage and grow your business. We hope the furnished details help you make a decision. In case you have any other doubt, please feel free to connect with us. We'd be happy to answer them for you.
Go Online with Builderfly
FAQs
How can I take my family business online?
There are three prominent ways to take your business online. Social selling, sell on marketplaces and create your own website. Each of these has its set of benefits. Experts say to grow your business online, you should be present at all of them. The key lies in managing your stores like a pro. Builderfly can help you do it.
Is it expensive to take the family business online?
No!! You can take your family business online absolutely free. This includes social selling, Selling on Google, selling on Marketplaces, or creating your own website. You do not require any investment for these. While others are accessible to all, you can adopt Builderfly to create your free online store.
Which is the best family business to start online?
Every fanily busienss is best. However, if talk about the online market and products that get the most online sales, we'd name clothing, grocery, FMCG, fashion, jewelry, etc. These product categories get the most sales in online business.